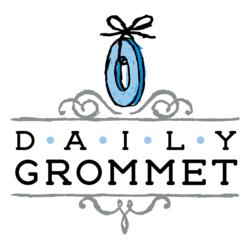 Daily Grommet is excited to support this Grommet and have the ability for more treasured stories to be told.
Lexington, MA (PRWEB) April 12, 2013
Daily Grommet, an online shopping site and product launch platform for innovative and undiscovered products, is working with three entrepreneurial women to feature Treasured Passages, Keepsake book.
For mothers and daughters, Treasured Passages offers the perfect inspiration to pick up a pen and share memories of our youth, adulthood and parenthood. Daily Grommet is excited to support this Grommet and have the ability for more treasured stories to be told. One of the founders, Whitney Biggs, is a cancer survivor who lost her own mother to the disease. As she came to grips with the realization that her mother would not know her children, and her children would not know their grandmother, Whitney and her two Treasured Passages co-founders came up with the idea of letter books to capture special memories and share them with future generations.
Treasured Passages' Mother Daughter Letter Book is a guided scrapbook, filled with prompts to encourage mothers and daughters to revisit their pasts and write down their experiences. The book includes cards that are meant to be exchanged, and each page suggests an activity to be done or a letter to be sent. Over time, as the cards find their way back into the book, you're building a beautiful keepsake of a treasured relationship and an irreplaceable family heirloom.
There's no substitute for handwritten notes, but many of us have given up paper correspondence in favor of more immediate electronic communications. The Mother Daughter Letter Book is a wonderful reminder to take a break from email and text-messaging and practice the art of letter writing. Every note or entry might not be perfect (after all there's no spell check or autocorrect) but they're 100% authentic.
About Daily Grommet
Daily Grommet is a highly curated online marketplace and launch platform for products of great utility, style or invention that haven't hit the big-time yet. Daily Grommet seeks out these unique products, carefully tests them, and produces a video review of each one telling the story behind its creation. Daily Grommet is rooted in the philosophy of Citizen Commerce whereby regular people form the commerce experience by suggesting products that reflect their values and interests. Citizen Commerce turns the typical top down retailer approach sideways, encourages global product innovation from small producers, and satisfies the consumer's need to know the stories behind and origins of favorite products. The company was also just named one of the hottest sites of 2013 by Internet Retailer. For more information, visit http://www.DailyGrommet.com.