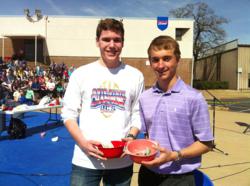 (PRWEB) April 15, 2013
The Team Red Bowl program was selected by Oklahoma Christian School (OCS) to be the beneficiary during their annual weeklong fundraising drive called HEROES (Hands Extended Reflecting Our Exacted Saviour) Week.
Throughout HEROES Week, the students raised money by daring and challenging one another to do several fun and scary activities like eating dried crickets or drinking a blended burrito 'smoothie'. Other kids played volleyball and football, charging spectators a fee to watch the games.
JAM Team Red Bowl Captain Tracy Zserdin headed the fundraiser with the help of her two sons, Jake, 10 and Zack, 14. Both boys were the first to give of their own money to help feed poverty stricken children in Africa.
"A child dies every seven seconds from malnutrition," Tracy told the students at OCS. "For most of these children, the only meal they will have that day is the one provided to them by JAM. It's easy to make a difference in a child's life, and it takes only $50 to feed a child for an entire year. Oklahoma can make a big difference in Africa, one bowl at a time."
Two years earlier, the Zserdin family traveled to Africa on a life-transforming trip, visiting the feeding centers run by JAM. The experience made a deep impression on the two young Zserdin boys and inspired them to join their mother Tracy in her efforts to start a Jam Team Red Bowl program in their hometown of Edmond, Oklahoma.
Jake visited Oklahoma Christian School with his mother and shared with the students his experience going to Africa and seeing first hand the work that JAM accomplishes there. He explained how he played soccer under the bright African sun with children who could not speak English. The connection he made with them taught him what being part of the JAM family is all about.
TRB encourages people who share the common dream of 'Helping Africa Help Itself' to form teams to raise money that is used to help support JAM's Nutritional School Feeding Programs in Africa. It takes only $50 to feed an African child for a year and JAM currently feeds 750,000 children every school day in Angola, Mozambique, South Africa and South Sudan.
About JAM:
JAM (Joint Aid Management) is an African humanitarian organization with over 28 years experience in providing feeding programs within schools, assistance to orphans and vulnerable children, the provision of water and sanitation, as well as skills development, community training on agricultural development, income generation projects and HIV/AIDS programming.
Visit our website: http://www.jamint.com/usa
Follow