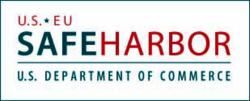 Paris, France (PRWEB) April 12, 2013
Haystack Information Discovery (HAYSTACKID), a leading provider of risk management and end-to-end technology-driven litigation preparedness and eDiscovery services, announced today that it has taken the necessary steps to achieve Safe Harbor Certification.
The US-EU Safe Harbor Agreement, as well as the US-Swiss Safe Harbor Agreement, is a set of guiding principles meant to regulate and ensure the integrity of electronically stored information (ESI), as well as any transfers of data. These principles, published by the U.S. Department of Commerce and the Federal Trade Commission, outline the best practices of international data transfers and handling of foreign ESI.
HAYSTACKID has chosen to become Safe Harbor certified to strengthen its management of any and all data received from clients operating in the European Union and Switzerland. This certification process amplifies HAYSTACKID's commitment to excellence through adherence to internationally agreed-upon statutes for data management, collection and other ESI-related tasks.
"Our staff is among the best in the business, and the Safe Harbor Certification process solidifies the responsible, comprehensive and resolute approach we take to managing client data," Kevin D. Glass, HAYSTACKID Chief Executive Officer and President, explained from HAYSTACKID's office in the Louis Vuitton building on Paris' famous Champs-Elysees. "As many of our clients our located within the European Union and Switzerland, our employees in the United States and Paris have proven their ability to manage data properly, securely and efficiently, regardless of its origination."
HAYSTACKID has committed to continued adherence to the US-EU and US-Swiss Safe Harbor Agreements, and will conduct regular audits to ensure long-term certification. For more information on HAYSTACKID's Safe Harbor Privacy Protection Certification, as well as the finer points of the agreements, please visit: http://haystackid.com/safe_harbor.htm.
About Haystack Information Discovery
Haystack Information Discovery ("HAYSTACKID") provides corporate customers and their counsel with low-cost predictability options that allow accurate budgeting and forecasting of their discovery expenses without the additional cost of software, hardware, or implementation fees. With office across the world and processing centers throughout the United States, HAYSTACKID is ready and able to handle your largest case, and save your organization a tremendous amount of time and money.
Haystack Information Discovery is headquartered in New York City with offices in Boston, Chicago, San Francisco and Paris, France.
Continue to visit us at http://www.haystackid.com or call (877.942.9782).
Contact:
media@haystackid.com
877.9.HAYSTACK (877.942.9782)