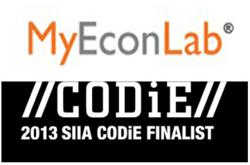 New York (PRWEB) April 11, 2013
MyEconLab with Knewton Adaptive Learning, Pearson's adaptive economics learning program, is a finalist in the 2013 Software & Information Industry Association (SIIA) CODiE Awards. MyEconLab with Knewton Adaptive Learning is recognized in the Best Postsecondary Personalized Learning Solution category.
Established in 1986, the CODiE Awards celebrate outstanding achievement across the software, digital information and education technology industries. This year, nominated ed-tech products underwent an intensive review by educator judges from around the world.
MyEconLab tailors learning material to meet the unique needs of each student, monitoring student performance on homework, quizzes, and tests and making recommendations based on that performance. Students also receive recommendations for additional practice in the form of rich multi-media learning aids like videos, an interactive eText, "Help Me Solve This" tutorials and graphing tools. This personalized learning approach is proven to improve students' results in the course. In a recent survey with more than 10,000 student users, 87 percent reported that MyEconLab helped them earn a higher grade on their homework, exams and in the overall course.* Ready-to-use assignments, individual student settings, custom built exercises and automated grading let instructors focus on student and class learning.
Experiments in MyEconLab provide a fun and engaging way to promote active learning and mastery of important economic concepts. Single player and multiplayer experiments give learners first-hand experience with how economic principals play out in the real word and, with easy data export features, instructors can bring student findings into the class for further discussion, analysis and learning.
Pearson topped the 2013 CODiE Awards for education with 14 programs earning finalist honors. From classroom management and teacher professional development to virtual and mobile personalized learning solutions, Pearson's CODiE finalists are a testament to its commitment to developing innovative education technology solutions that improve student achievement.
In addition to MyEconLab with Knewton Adaptive Learning, Pearson's products moving on to the next round of competition in this year's CODiE Awards include digits, EQUELLA, iLit, Lab Investigator Tools, MyFoundationsLab, MyMathLab with Knewton Adaptive Learning, OpenClass, Pearson Teacher Compass Suite, Pearson iBook2 Textbooks, PowerSchool, Prep for the GED Test: MyFoundationsLab Edition, Propero and Schoolnet.
MyEconLab with Knewton Adaptive Learning and all of Pearson's finalists will now be voted on by the entire SIIA membership to determine the winners in each category. The 2013 CODiE Award winners will be announced at the 2013 Ed Tech Industry Summit in San Francisco on May 6.
For more information about MyEconLab with Knewton Adaptive Learning visit: http://www.myeconlab.com.
*Statistics, data, and student testimonials have been compiled from the MyEconLab student surveys taken from fall 2010 to spring 2012.
About Pearson
Pearson, the world's leading learning company, has global reach and market-leading businesses in education, business information and consumer publishing (NYSE: PSO).
Contact:
susan.aspey(at)pearson(dot)com – 1.800.745.8489