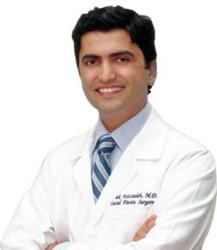 To receive an award that is completely dependent on the satisfaction of my patients is an extremely humbling experience.
Beverly Hills, CA (PRWEB) April 15, 2013
Facial Plastic & Reconstructive Surgeon Babak Azizzadeh, MD, FACS, of La Peer Health Systems in Beverly Hills has been named a 2013 Patient's Choice Physician, an honor recognizing his compassion and dedication to providing high quality care and impeccable procedures. Only a small number of physicians across America are recognized with the honor.
"To receive an award that is completely dependent on the satisfaction of my patients is an extremely humbling experience," said world-renowned facial plastic surgeon Dr. Azizzadeh. "My number one goal as a surgeon is to always bring my patients the best results possible."
Aiming to reflect the vital differences that doctors make in a patients life, the Patient's Choice Award is voted on 100% by people who have received treatment from a doctor with an active medical or dental license. Being recognized with a Patient's Choice Award is an impressive honor, as only 5% of the roughly 830,000 active doctors in the United States are recipients. The award covers a wide array of patient care, including bedside manner, office staff courtesy, follow-up by doctor, and doctor-patient face time.
"I develop a trusting relationship with each and every patient that I treat because I believe this is the best way to truly understand what my patients goals are. Whether I'm performing a facelift, rhinoplasty, or facial reconstruction surgery, I know that the most important part is to bring natural, custom, and pleasing aesthetic results," said Dr. Azizzadeh.
Though Dr. Azizzadeh is thrilled with receiving a 2013 Patient's Choice Award, he believes more can be done to increase patient satisfaction, and will continue to strive for improvement to bring his patients the best outcomes possible.
"Receiving this award is an immense honor, and I intend to continue to find better ways to make sure my patients experience continues to improve in the remainder of 2013," said Babak Azizzadeh, MD, FACS.
Dr. Azizzadeh is trained in Facial Plastic & Reconstructive Surgery, as well as Head & Neck Surgery, giving him a distinctive insight into facial nerve function and facial aesthetics. Dr. Azizzadeh also has extensive training in microsurgical facial reconstruction, which is often required for the treatment of people who are born with facial paralysis. He completed a fellowship in facial plastic & reconstructive surgery at the prestigious Harvard Medical School, and is the author of five bestselling books. Learn more at http://www.facialplastics.info.
La Peer Health Systems, an outpatient surgery center in Beverly Hills, founded by doctors and focused on providing excellent patient care alongside the most cutting-edge medical treatments available. With 40 world-renowned physicians in 13 specialties, comprehensive medical treatment is offered that takes patients from consultation to diagnosis, treatment, surgery, and ultimately aftercare. The 13 medical departments include orthopedics & sports medicine, gastroenterology, head & neck surgery, colorectal & general surgery, podiatry, ophthalmology, pain management, plastics & reconstructive surgery, gynecology, spine surgery, interventional cardiology, bariatric surgery, and anesthesiology. Unlike large hospitals, La Peer's unique structure offers extremely personal care in a safe and controlled environment.
To learn more about La Peer Health Systems, visit http://www.lapeerhealth.com.