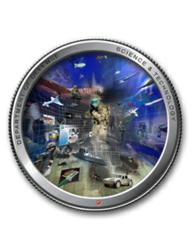 NDIA announces confirmed speakers for the 14th Annual S&ET Conference/Defense Tech Exposition, April 24-26, 2013, in National Harbor, MD, where attendees will hear from DoD, Military Service and engineering and technology leaders.
Arlington, VA (PRWEB) April 12, 2013
National Defense Industrial Association (NDIA) has announced confirmed speakers for its 14th Annual Science & Engineering Technology (S&ET) Conference/Defense Tech Exposition to be held April 24-26, 2013, at the Gaylord National Hotel in National Harbor, MD.
Event attendees will learn more about RD&E priorities going forward, the ways in which Sequestration is impacting current and future S&T efforts, and how RD&E funding was treated in the FY 13 Defense Appropriation.
Confirmed speakers for the event include:
DoD and Military Secretariat Level R&E Leaders:

Alan R. Shaffer, Acting ASD, Research and Engineering
Earl Wyatt, DASD, Rapid Fielding
Mary Lacey, DASN, Research, Development, Technology & Engineering
Mary J. Miller, DASA, Research & Technology
David Walker, DASAF, Science, Technology & Engineering
Research Agency/Warfighting Lab Leaders:

RADM Matthew Klunder, USN, Chief of Naval Research
Robin Staffin, Director, Basic Science, OASD(R&E)
Peter Highnam, Director, IARPA
Cora Marrett, Deputy Director, NSF
Steven Walker, Deputy Director, DARPA
BGen Mark R. Wise, USMC, VCNR and Commanding General, MCWL
Additional U.S. Government officials and executives charged with research and engineering responsibilities will also speak at the event.
To download the most up to date agenda, please visit the event website at: http://www.ndia.org/meetings/3720 under the "Agenda" tab. There, you can also register and view the latest Industry and Government registration rates. Exhibitors and Sponsors, please visit the exhibits website at: http://www.ndia.org/exhibits/3720.
Follow the NDIA Science & Engineering Technology Division on Twitter: @NDIA_SET
About NDIA: The National Defense Industrial Association (NDIA) is America's leading Defense Industry association promoting national security. NDIA provides a legal and ethical forum for the exchange of information between Industry and Government on National Security issues. NDIA members foster the development of the most innovative and superior equipment, training and support for warfighters and first responders through our divisions, local chapters, affiliated associations and events.