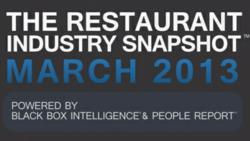 "First quarter challenges included payroll taxes, delayed tax refunds, more gloom for the US economy caused by the Sequester, high gasoline prices, New Year's Eve helped in the beginning, but an early Easter hurt in the end." - Wally Doolin
Dallas, Texas (PRWEB) April 15, 2013
Same-store sales were +0.5 percent in March, compared to February's result of -5.0 percent. The last week of March included Easter, whereas Easter fell in the first week of April last year. Same-store traffic results showed a decline of 2.0 percent, better than February by 4.2 percent. Consumer Edge Research, a partner company to People Report and Black Box Intelligence, released the March "Restaurant Willingness to Spend Index" this week of 81 compared to 82 in February, and 83 in January.
First quarter 2013 same-store sales were -1.3 percent and same-store traffic was -3.7 percent.
"First quarter challenges included payroll taxes, delayed tax refunds, more gloom for the US economy caused by the Sequester, high gasoline prices, New Year's Eve helped in the beginning, but an early Easter hurt in the end." said Wally Doolin, CEO and Founder of Black Box Intelligence. "That in addition to the bad weather, which we were lucky not to have last year, made for a disappointing quarter. However, it appears the consumer began to adjust to these challenges in March, but we remain in a fragile sales environment" added Bill Schaffler, President at Black Box Intelligence and People Report.
Additionally in March, 107 out of 171 DMAs reported posted a positive result in March, compared to only 1 in February. The New York-New Jersey region performed the best with a positive 2.1 percent same-store sales decrease, while the Mountain Plains was the lowest performing area, with a same-store sales decrease of 1.5 percent.
People Report data reports turnover results by position by segment to their member companies each month. In March, results show management turnover decreasing while hourly turnover is increasing. Most recent job growth reported by People Report is 0.9 percent, identical to last month's number of 0.9 percent.
The Restaurant Industry Snapshot is a compilation of real sales and traffic results from over 170 DMAs from 100+ distinct restaurant brands and approximately 15,000 restaurants that are clients of Black Box Intelligence. Currently, data is reported in four distinct segments: casual dining, upscale/fine-dining, fast casual, and family dining. Black Box Intelligence is a sister company to People Report, which tracks one million restaurant employees on workforce analytics. The Restaurant Industry Snapshot also includes the Restaurant Industry Willingness to Spend Index from Consumer Edge Research, which is a monthly household survey of more than 2,500 consumers. Consumer Edge Insights is a marketing partner with Black Box Intelligence and People Report.