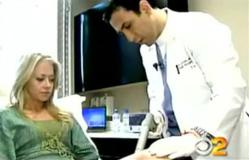 Los Angeles, CA (PRWEB) April 12, 2013
Aesthetic medicine practitioners help women battle many different cosmetic flaws using treatments ranging from laser hair removal to laser skin resurfacing to Botox. According to an article in the spring issue of New You magazine, one of the most common cosmetic issues for women is cellulite and new treatments are now available to fight the condition (Go to: goo.gl/SmCQ4).
Cellulite gives the skin an orange peel or mattress-like appearance. According to the article, nearly 90 percent of women admit to being affected by cellulite. Out of that 90 percent, 71 percent state they are embarrassed over its appearance.
"I've seen the 90% figure cited often and I'm not sure of its source," says Dr. Simon Ourian, Medical Director, "so I can't verify it as a scientific fact. Suffice it to say, though, that cellulite is the bane of many of my female patients."
Surprisingly, cellulite has no correlation with obesity. Cellulite is not curable with exercise and may actually become more obvious when people lose weight. When there is decreased circulation, inflammation, and cellular toxin build-up, fat cells swell and become trapped in fibrous connective tissue bands. This causes the all too familiar dimpled appearance of cellulite.
Cellulaze is a minimally invasive laser treatment created specifically to treat cellulite. In a minor office procedure, a small tool inserted just beneath the skin is used to melt superficial fat and releases the fibrous bands that keep the fat trapped. It also encourages collagen growth and the result is smoother looking and healthier skin.
Another new treatment, VaserSmooth, utilizes ultrasound waves rather than laser energy. The waves serve to release fibers that restrict the skin causing cellulite, and yield an improvement in the skin's appearance.
Another option, acoustic wave therapy, is said to relax the connective tissue that causes cellulite. Over a series of treatments, this serves to make the skin smoother and reduce the appearance of cellulite.
"I'm paying very close attention to the developments in cellulite treatment technology," says Dr. Ourian. "It may be the case that there won't be a single solution and that each of the modalities described in the article is effective for only certain patients."
Dr. Ourian has been a pioneer in laser technology and non-invasive aesthetic procedures including Restylane, Juvéderm, Radiesse and Sculptra. These treatments are used for the correction or reversal of a variety of conditions such as acne, acne scars, skin discoloration, wrinkles, stretch marks, varicose veins, cellulite, and others. More information about cellulite removal can be found on Epione's website.