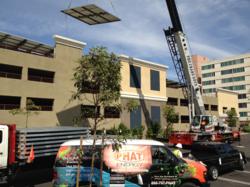 This is a pro-business financing tool that brings a compelling mix of economic and environmental benefits to our community -- without the use of public funds.
City of Commerce, CA (PRWEB) April 23, 2013
Newly-elected Mayor Joe Aguilar and the Commerce City Council are providing businesses and property owners with an effective new tool to slash rising energy costs, improve property values, reap rich tax incentives and put local contractors back to work using no public monies. They're the first in Los Angeles County to introduce the market-proven PACE model of FIGTREE Energy Financing to the region.
PACE (Property Assessed Clean Energy) is a municipal economic development tool that qualifies commercial property owners for 100% up-front financing for money-saving energy efficiency, renewable energy and water conservation improvements based strictly on assessed property values.
FIGTREE's unique brand of PACE financing is available for commercial, industrial and multi-family properties of five or more units. Most properties qualify for financing that amounts to 10% of an assessed property's value; sometimes more. FIGTREE finances projects from as little as $5,000 into the millions of dollars.
"We are constantly seeking innovative ways to help the City of Commerce's business community," said Mayor Joe Aguilar. "PACE puts the economic benefits of energy and water efficiency improvements within reach of most any commercial property owner, while providing rich tax incentives, improving the city's building stock, creating local jobs and ensuring a more sustainable community," Aguilar continued. "This is a pro-business financing tool that brings a compelling complement of economic and environmental benefits to our community without the use of public funds."
FIGTREE uses private-sector capital to supply property owners with 100% up-front funding for material and labor costs of permanently-installed improvements that reduce a building's use of grid-supplied energy or water. FIGTREE finances PACE improvements by aggregating and selling the projects as municipal bonds. FIGTREE was the first in California to successfully initiate this new mode of financing in multiple markets.
Unlike other PACE providers, FIGTREE doesn't require property owners to bring their own financing to the table, although they can if they see fit. FIGTREE uses an open market model that works with multiple capital providers to present property owners with the lowest cost of financing available.
Because PACE financing can be off balance sheet, it doesn't adversely impact a property owner's credit status or ability to borrow. This inspires new projects by affording contractors a unique funding vehicle to jump-start projects that may have stalled because of a property owner's aversion to additional debt -- or a credit rating concern.
"The community's aging building stock combined with Los Angeles County's higher real estate values make the City of Commerce fertile ground for PACE improvements," said FIGTREE's Vice President of Municipal Finance Joe Flores.
"Building owners will be pleasantly surprised with how much money they can save while improving their assets. PACE improvements can transform existing energy expenses into thousands of dollars of positive cash flow each year for Commerce businesses and property owners," Flores added.
PACE-financed improvements also allow property owners to qualify for federal, state and local tax credits, rebates, hiring credits, accelerated depreciation and other efficiency incentives.
Qualifying improvements include solar water heating and cooling; solar photovoltaics; heating and air conditioning (HVAC); cool roofs (and the structures that support them); fuel cells; energy-efficient lighting and energy management systems; upgrades to windows, doors and elevators; boilers and chillers; pool heating and cleaning systems; water conservation improvements, fixtures, xeriscaping and electric vehicle charging stations.
Financing terms are based on the useful life of the type of improvement a property owner wishes to incorporate, i.e. 10 years for HVAC upgrades or 20 years for solar PV. Improvement costs are repaid via voluntary assessments that are due twice-yearly on property tax bills. If a property is sold, the financing obligation transfers to the new property owner.
PACE also provides commercial property owners with a useful vehicle to address the provisions of California Assembly Bill 1103, which requires benchmarking and disclosure of energy usage for nonresidential buildings that are involved in financial transactions, i.e. those being leased or sold. .
"This program is not just good for Commerce, it can bring economic and environmental benefits to the greater Los Angeles region as well," noted Aguilar.
"With commercial buildings in the City of Commerce numbering in the thousands -- and total square footage in the tens of millions -- retrofitting Commerce's building stock has the potential of creating many quality jobs. Investments to consume less energy and water reduce harmful greenhouse gasses and the region's dependence on fossil fuels, leading to cleaner, healthier neighborhoods," Aguilar added. "Think of what could happen if we inspire cities across Los Angeles to get on board. We all benefit."
ABOUT THE CITY OF COMMERCE: The City of Commerce is the home of the Citadel Retail Outlets, the Commerce Casino and more than 1,800 other businesses. Located just five minutes South of Downtown Los Angeles, Commerce provides competitive advantages that include free labor recruitment services, low business license fees, no payroll tax, a free transportation system and outstanding freeway access. Commerce is the clear choice for business. To learn more, call (323) 887-4447.
ABOUT FIGTREE PACE: FIGTREE is a full-service, San Diego-based clean energy finance company providing breakthrough, 100% up-front off balance sheet PACE (Property Assessed Clean Energy) financing to help commercial and residential property owners improve their properties and realize the money-saving benefits of energy efficiency, renewable energy and water conservation upgrades with no money down. FIGTREE helps cities and counties create jobs, spur economic development and meet their AB 32 goals utilizing no public monies. FIGTREE is the first company in California to successfully raise private capital for commercial PACE projects via a multi-jurisdictional bond issue. Learn more by calling 1-877-577-7373 or visit http://www.figtreecompany.com.