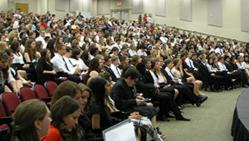 Lynchburg, VA (PRWEB) April 11, 2013
A pioneer and leader in online education, Liberty University is constantly finding new ways to involve its more than 80,000 online students around the globe in events occurring on its residential campus. Liberty's Alpha Lambda Delta chapter, a national cross-disciplinary freshman honor society, recently reached out to its newest online members by streaming its initiation ceremony live for the first time last weekend.
Out of ALD's more than 500 new members, 179 were Liberty University Online students. Many tuned in from all over the United States and from Canada, China, Singapore, San Salvador, Honduras, and France, to view the ceremony, held at the Elmer L. Towns Religion Hall on Friday, April 5. It featured keynote speaker Virginia State Sen. Steve Newman.
Bessie Grayson, administrative assistant of ALD, said online students have had the opportunity to join the society since 2008.
"The live stream was a great way to include our LUO initiates who are unable to travel because of distance," Grayson said.
Newman congratulated students on their educational achievements and encouraged them to continue their pursuit with excellence.
"Great education and great principle can take you so far. You should be educated in a way that you can be personally fulfilled," he said. "Education is an endless possibility."
ALD, founded in 1924 at the University of Illinois, is an honor society that recognizes the achievement of first-year students. There are more than 235 chapters nationwide. Membership is open to full-time freshmen who earn a scholastic average of 3.5 or better at a four-year college/university. Liberty's chapter began in 1986 and has since initiated nearly 3,000 members.
In October 2012, Liberty's chapter earned the 2012 National Order of the Torch Award, ranking it among a select group of elite chapters nationwide.
About Liberty University
Liberty University, founded in 1971, is the largest private, non-profit university in the nation, the largest university in Virginia, and the largest Christian university in the world. Nearly 100,000 students attend classes on its 6,800-acre residential campus and study in its thriving online education program.