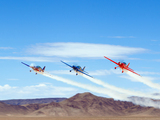 As Las Vegas' most intense adventure destination, Sky Combat Ace hosts countless bachelors parties, so it made perfect sense to cater a package specifically for the bachelor's final hoorah, and the Wingmen package is it.
Las Vegas (PRWEB) April 16, 2013
Although bachelor parties lose a member of their crew to nuptials, they'll all gain their manhood with Sky Combat Ace's ultimate bachelor party package—Wingmen, where men recreate their own version of "Top Gun" with non-stop spins, barrel rolls and loops 6,000 feet above Sin City, then party at Sapphire, Las Vegas' #1 Strip club and world's largest gentlemen's club.
In true VIP fashion, the bachelor bros will take the "highway to the danger zone" by limousine to SCA where their aerial adventure will begin. In the action-packed Wingmen bachelor party experience, each guy will take the controls of a 330-horsepower, carbon-fiber Extra 330LC airplane under the supervision of an expert aerobatic pilot to live out his "Iceman" or "Maverick" fantasies—while chasing his bro-pponents through the Nevada skies at up to 250 mph.
Although executing high G-forces is undoubtedly the highlight of the Wingmen Bachelor Party Package, a fighter pilot experience wouldn't be complete without the digs to talk about the adrenaline-pumping maneuvers afterwards. The Sky Combat Ace Hangar comes complete with a state-of-the-art sound system, a lounge, pool tables, darts, basketball hoops, a stage, flat screen TVs and a 16x9 ft, high definition projector screen.
Following the group's once-in-a-lifetime thrill-ride, the bachelors will be transported by limousine back to their hotel to prepare for a night on the town at Sapphire Gentlemen's Club, which offers more than 70,000 square feet of topless entertainment (400+ entertainers nightly), premium alcohol and cigars, and one-of-a-kind events featuring the Sapphire Gems.
The Wingmen Bachelor Party Package starts at $550 per person and includes:

SCA Wingmen Bachelor Party Package for each party member
2-hour non-exclusive SCA Hangar rental
Limousine transportation to and from SCA
Limousine transportation from hotel to Sapphire
Complimentary entry and first drink at Sapphire
All packages include the option to purchase photos captured before take-off and video recorded of the entire flight experience by four airplane-mounted cameras. To book The Wingmen Bachelor Party Package, visit http://www.skycombatace.com or call 888-494-5850.
ABOUT SKY COMBAT ACE:
Sky Combat Ace offers Nevada's only civilian aerial combat training center. Sky Combat Ace pairs you up with actual fighter pilots to learn the art of basic fighter maneuvering. You can fly with just the fighter pilot or take on one of your friends and test your skills against an equally matched adversary. Under the supervision of SCA's highly trained fighter pilot instructors, you are the one at the controls, you are the one squeezing the trigger and you get the satisfaction of scoring a hit on your opponent. Safety is the top priority at Sky Combat Ace. SCA pilots have amassed a perfect safety record with zero accidents or incidents. All of the pilots are chosen for their experience and unique qualifications that make them the best in the business.
Sky Combat Ace flies seven days a week, 365 days a year. Sky Combat Ace is located at 1420 Jet Stream Dr. Henderson, Nevada 89052. For more information or to book your reservation, visit http://www.skycombatace.com, call 888-494-5850 or email reservations(at)skycombatace(dot)com.