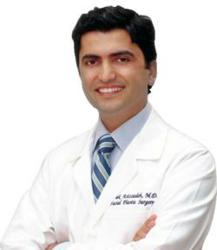 "It's very important to get the word out that revision or secondary facelift procedures are just as safe as primary facelifts and any other type of cosmetic facial surgery for that matter.
Beverly Hills, CA (PRWEB) April 16, 2013
According to new reports published in the March issue of Plastic and Reconstructive Surgery, secondary or revision facelift surgeries as a cosmetic procedure have proved effective and safe for individuals wishing to combat aging. Babak Azizzadeh, MD, FACS, a facelift and necklift expert in Beverly Hills, not only agrees with the studies findings, but also believes that a revision facelift is one of the best procedures to improve facial aging without the need for numerous upkeep procedures.
"It's very important to get the word out that revision or secondary facelift procedures are just as safe as primary facelifts and any other type of cosmetic facial surgery for that matter," said Dr. Azizzadeh, Beverly Hills facelift expert. "Undergoing a facelift and necklift is the best way to see long term results and can help individuals overcome severe signs of aging."
The study examined more than 800 facelift operations between 1990 and 2010, 60 of which were secondary procedures. Of those 60 individuals, the average time between their first and second facelift procedures was 9 years. The research found that the complication rate in secondary facelifts was nearly 5%, which was consistent with previous studies. Interestingly enough, the research also suggested there to was no increase in the rate of facial nerve injury after a revision facelift, something previously thought to be a complication. Dr. Azizzadeh believes that the results and safety of facelifts greatly depend on the expertise of the performing surgeon.
"It's very important that individuals looking to undergo a primary or revision facelift select a surgeon who has the proper training, who understands their goals and can produce natural results. I achieve this for my patients by striving for facial balance and harmony between every facial feature," said Dr. Azizzadeh. "Selecting a surgeon with expert knowledge in facial nerve reconstruction is also extremely important, and a benefit that we add."
At the CENTER for Advanced Facelift Surgery in Beverly Hills, Dr. Azizzadeh performs both primary and revision facelifts for individuals wishing to rejuvenate their appearance with long lasting result, and often recommends patients consider a necklift in conjunction with their surgery. Though many patients come to the CENTER with goals of achieving youthful results through non-invasive measures, Dr. Azizzadeh makes sure to explain to his patients the benefits of undergoing a surgical facelift.
"A big reason that some patients achieve a poor outcome after an initial facelift is because their surgeon does not take an adequate three dimensional approach. When I perform any type of facelift surgery for my patients, I restore lost volume in addition to providing a tighter and toned face through non-invasive restoration by using multilevel fat grafting, Sculptra and other facial fillers," said Dr. Azizzadeh.
Dr. Azizzadeh is trained in Facial Plastic & Reconstructive Surgery, as well as Head & Neck Surgery, giving him a distinctive insight into facial nerve function and facial aesthetics. Dr. Azizzadeh also has extensive training in microsurgical facialreconstruction, which is often required for the treatment of people who are born with facial paralysis. He completed a fellowship in facial plastic & reconstructive surgery at the prestigious Harvard Medical School, and is the author of five bestselling books.
To learn more about Babak Azizzadeh, MD, FACS, or to schedule an initial consultation, please contact his office today by calling (310) 657-2203 to better understand which surgical procedures may be best for you. For additional information, visit http://www.faceliftnet.com.