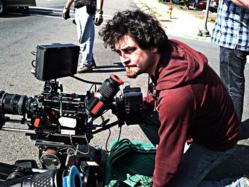 "I'm simply asking the world if they want more Poe films, and if 100,000 people say yes and donate a dollar, then I'll make it for those 100,000 people," said Director John LaTier.
New Orleans, LA (PRWEB) April 12, 2013
Local film director John LaTier has dedicated the last two years of his life to consuming Edgar Allan Poe's work, and now he wants to dedicate himself to preserving that work in cinematic form through a Kickstarter campaign. His first Poe film, "The Tell Tale Heart," stars Rose McGowan alongside Peter Bogdanovich and Patrick John Flueger and will be released later this year. With funding from the popular crowd-funding site, LaTier hopes to make 11 more Poe-influenced independent films including "The Cask of Amontillado," "The Fall of the House of Usher," "The Murders in the Rue Morgue," and "The Facts in the Case of M. Valdemar."
"I have found that New Orleans, with all its ghosts and spirits, is the perfect backdrop for bringing Poe's macabre stories to life," said LaTier. "I'm simply asking the world if they want more Poe films, and if 100,000 people say yes and donate a dollar, then I'll make it for those 100,000 people. They can watch the film I make for the dollar they invested. Then, if they want to invest again, I'll keep making movies for them based on Edgar Allan Poe's work."
In slightly atypical fashion, LaTier debuted the trailer to "The Tell Tale Heart" on his Vimeo page, with the announcement that a Kickstarter campaign would be launching the same week. The monetary goal of the Kickstarter initiative is $100,000. LaTier estimates preproduction will begin the day that the full funding comes in and the film will quickly be completed within a projected 60-day period.
An even bigger motivation for LaTier to fund films this way is to give the audience a voice. Through this fan-funded route, LaTier hopes to open and maintain a dialogue between filmmaker and audience, and he is open to all feedback about his interpretations of Edgar Allan Poe's work. Social media and technology have made it easier than ever to communicate across the world, and LaTier wants to make movies that the fans want to see.
LaTier also intends to prioritize audience involvement by bringing Hollywood South alive with the help of a new generation of industry hopefuls. "I want to bring in the local youth to work on these films and give them a true taste of what filming is like," said LaTier on hiring native 18 to 20-something year old New Orleanians as crewmembers to advise and teach them during a hands-on filmmaking experience.
Having worked with Red Digital Cinema Cameras since their inception, LaTier has established himself as a well-respected, cutting-edge video artist and photographer. In 2009, he created the imagery and video components of the Sobieski Vodka campaign starring Bruce Willis, all shot in the French Quarter. Other work has included PSA development for Love is Louder, a movement founded by Brittany Snow, and photography and video assets for Yamaha Entertainment Group.
For more information on John LaTier, visit http://www.johnlatier.com.