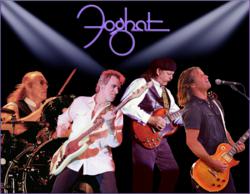 Napa, CA (PRWEB) April 11, 2013
In the late '60's Roger Earl & Lonesome Dave Peverett first toured America as members of the seminal British band "Savoy Brown." Together with guitarist Kim Simmonds, "Savoy Brown" was on the cutting edge of the emerging British blues-rock scene, and they influenced countless musicians on both sides of the "pond". In 1971, wanting to give a more rock 'n' roll flavor to the blues-boogie music they were playing with "Savoy," Dave & Roger enlisted lead/slide guitarist Rod Price & bassist Tony Stevens, formed a new band, "Foghat," and the rest is part of rock 'n' roll history.
Signed by Albert Grossman to Bearsville Records in 1971, the band recorded their first self-titled LP "Foghat" and began touring relentlessly for the next 14 years. Their hard work has thus far been rewarded with seven Gold records, one Platinum record "Fool For The City" (1975), and one Double-Platinum record "Foghat Live" (1977). The "Fool For The City" album contained Foghat's trademark Top 40 hit song "Slow Ride" and cemented their place as one of the world's top rock acts. They continued to hit the charts in the 1970's with singles such as "Fool For The City," "Drivin' Wheel," "I Just Wanna Make Love To You," "I'll Be Standing By," "Stone Blue," "Third Time Lucky" and "Somebody's Been Sleeping In My Bed..." many of which are still classic rock radio staples.
Tickets for Foghat plus The Sorentinos are $35. They are on sale now and can be purchased through the theatre website at http://www.uptowntheatrenapa.com, at Ticketmaster (http://www.ticketmaster.com) or at the theatre box office (please call 707.259.0123 ext. 6 for hours). To find out more, please visit http://www.uptowntheatrenapa.com.
The Uptown Theatre Napa is downtown's ultimate destination for live concerts. Nestled in the famed West End district, this stunningly restored art deco masterpiece showcases only the finest acts, featuring music, comedy and more. An historic landmark, the Uptown offers a phenomenal, intimate live show experience, with excellent site lines and world class sound and lighting. As concert venues go, this is the place to be. Every seat is a great seat so buy concert tickets now!