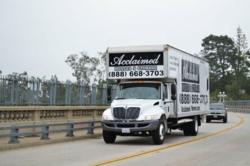 Burbank, California (PRWEB) April 13, 2013
The go-to residential and commercial moving company in Burbank, Acclaimed Burbank Movers, has just added two new box trucks to its expanding fleet in a move that allows the company to tackle more office moves. Both new trucks feature a lift-gate, as well as, a global positioning system, and also meet all of California's strict regulations regarding commercial vehicles. The lift-gates allow Acclaimed to safely load equipment, furniture, and materials weighing up to twenty-five hundred pounds, and now the company can handle any type of office or business. Acclaimed continues to evolve and improve, catering its services around the local moving needs. Acclaimed Burbank Movers is a full-service, fully comprehensive, luxury moving company.
For years, Acclaimed Burbank Movers has helped local homes and businesses relocate across the city and county or across the country, and relocating across the world. Acclaimed excels in any environment, including houses, offices, apartments, warehouses, restaurants, condos, and retail facilities. Each of their Burbank movers is a uniformed, clean-cut, company man, who goes through extensive training to ensure that they can correctly wrap, pack, and then move any item. The packing service offered by Acclaimed is perfect for both homes and businesses, as it strengthens boxes and includes the disassembly and reassembly of large items, as well as, the construction of custom moving crates for all antiques, artwork, electronics, flat-screen TVs, and other delicate or valuable items. All transportation is conducted by Acclaimed's fleet of top-of-the-line, bio-diesel trucks, which come equipped with GPS for efficient navigation. Moreover, when storage is necessary Acclaimed maintains space for long-term and short-term periods in their colossal, state-of-the-art, climate-controlled storage facility.
Acclaimed Burbank Movers continues to provide incredible services at economical rates, which is how the company makes a lifelong customer out of each person that they help. Quickly, Acclaimed has become synonymous with affordability, efficiency, and reliability in the moving industry. The addition of new trucks and the further development of their office moving services will keep Acclaimed one-step ahead of the competition. When it's time to find a mover, for an office or home in Burbank, it's time to get a free, no-obligation quote from Acclaimed Burbank Movers.