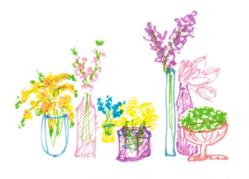 Ojai, CA (PRWEB) April 12, 2013
Spring is here and along with the warmer weather, budding bulbs and longer days, the return to outdoor weddings and receptions is eminent. The classic and modern weddings of winter give way into the more rustic and free-flowing designs of spring. Seasonal spring flowers will abound at weddings in combinations of soft pastels, paired with silvery greens and coupled with small bursts of brighter colors.
FiftyFlowers.com has lots of tips on which flowers to use this spring as well as suggestions on how to arrange them into beautiful bouquets and centerpieces. With over ten years in the wholesale wedding flower business and over 50,000 brides served, FiftyFlowers.com has provided flowers for thousands of spring weddings.
Spring flowers such as fragrant freesia and lilac, trumpet-shaped daffodils, cup-like tulips, iris and hyacinth make excellent choices for this time of year. Pair these spring flowers with fuller flowers like hydrangeas, garden roses or peonies to fill out floral designs or use them alone in a traditional spring creation. The unique shapes of spring flowers provide added depth and texture and easily combine into large full arrangements.
The floral designer at FiftyFlowers.com recently created a gorgeous and fragrant bouquet filled with violet-blue hyacinths, mini yellow daffodils, pale pink asters, yellow and pink freesia, green dianthus and blushing pink tulips. For a perfectly spring look she wrapped the stems with a thin ribbon in five coordinating colors inspired by the bouquet creating a band of colors down the length of the stems. The bouquet design was then carried over into the reception centerpieces where she used delicate colored glass containers filled with small clusters of the same spring flowers. She placed a few stems of pink freesia in a tall pink bud vase, next to a cluster of yellow mini daffodils in a short square purple vase. Use different sizes, shapes and colors of vases on each table to create a warm spring centerpiece.
Pantone, the world-renowned authority on color, recently released their spring color trends, which include Emerald, Dusk Blue, Tender Shoots, Lemon Zest, Grayed Jade, African Violet and Linen. To work these color trends into wedding flowers try these pairings: For Dusk Blue a bride can choose Blue Hydrangeas, Lemon Zest pairs perfectly with Yellow Billy Balls while Purple Spider Flowers are an excellent representation of Pantone's African Violet color and for Linen try the unique Quicksand Roses.
One of the wonderful features of spring is that greenery becomes almost as important of a feature as the focal and filler flowers. Expect to see lots of greenery tucked into spring centerpieces and cascading from bridal bouquets. Even Pantone is predicting multiple shades of green in their spring color trends with Emerald, Grayed Jade and Tender Shoots all featured. Brides can incorporate these trending green colors by using Yoko Ono Mini Button Poms, Tinted Lime Green Statice and Tinted Green Daisies.
Spring flowers remind us of fresh flower gardens and many spring wedding bouquets take their inspiration and free-flowing form directly from these abundant and beautiful gardens. We expect to see fewer round-molded bouquets and centerpieces and more natural, garden style bouquets with free flowing flowers that are casual and reflect the carefree attitude of a spring garden.
To create this garden look start with flowers of various shapes and heights that will naturally create dimension in a bouquet, do not cut the stems until the bouquet is complete, this way the flower heads can be raised or lowered as needed to fill the bouquet. Start by selecting 3 to 5 stems of greenery, 3 to 5 stems of filler flowers, 3 to 5 stems of focal flowers and a few select stems that will drape out of the bouquet. It helps to lie out all the bouquet ingredients and assess the way the various stems naturally bend so that these features can be best incorporated into the bouquet. Gather the stems loosely in one hand and tuck each flower into place where it fits best. Cluster flower heads together in odd numbers for a less structured feel and be sure to place flowers at different heights within the bouquet to maintain a garden look. Then, wrap the stems with a special ribbon of choice to hold the bouquet together. Garden-style bouquets look great with minimal wrapping on the stems, but if preferred one can also wrap the length of the stems with ribbon leaving room at the bottom to store the bouquet in water until ready to use it.
For more information on FiftyFlowers.com wholesale wedding flowers visit the website or browse their Pinterest page or Blog for ideas on how to put these trends to work for your upcoming wedding. FiftyFlowers.com carries over 2,000 flower varieties, shipped directly from their farms to your door. They specialize in wholesale flowers for the do-it-yourself bride or event planner and pride themselves in having excellent customer service available via phone, email or live chat coupled with a 100% wedding day guarantee, which guarantees the quality of their flowers to every customer. They also provide their customers with extensive DIY information in the form of videos, a continuously updated blog, free phone consults with floral designers, and social media.