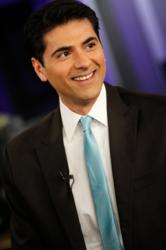 Cardiovascular disease is the number one killer in the US, so whatever we can do to reduce it is a good thing.
Beverly Hills, CA (PRWEB) April 17, 2013
A weekly feature on the morning news show Good Day LA, Sonu Ahluwalia, MD, reported recently on the importance of cholesterol-lowering medications like statins.
"Cardiovascular disease is the number one killer in the US, so whatever we can do to reduce it is a good thing," said Dr. Ahluwalia, who is a surgeon at La Peer Health Systems in Beverly Hills. "To lower cholesterol, the bad cholesterol, that's what statin does."
One of the most commonly prescribed drugs to reduce cholesterol, statins like Lipitor work by hindering the enzyme HMG-CoA reductase, which is involved with cholesterol production in the liver. Although one in four Americans is currently taking statins to reduce his or her cholesterol level, many patients report experiencing negative side effects, including muscle pain and cramping, upset stomach, cognitive issues and fatigue.
According to Dr. Ahluwalia, these side effects lead some patients to cease taking cholesterol medication all together. The board-certified surgeon suggests that patients experiencing these unpleasant effects talk to their doctors about reducing their dosages or trying other statins.
"Talk to your medical provider and see if there are other statins you can get on," said Dr. Ahluwalia, who reminds viewers that statins and other cholesterol-reducing drugs can reduce the incidence of heart disease. "If it's under our control to take a medicine to reduce a major risk factor, I think it's worthwhile."
Dr. Ahluwalia also spoke about a study assessing the new work guidelines for medical interns and residents. While the recent reduction in hours was intended to reduce doctor error, the study found that the rate of errors actually went up. Researchers believe that multiple handoffs of patients may be one source of the trouble. Additionally, interns and residents have reported that, while the number of hours has lessened, the workload has remained essentially the same.
Although more research is needed, Dr. Ahluwalia reminds us that, "We have to have compassion for these residents."
Watch the entire news segment with Dr. Ahluwalia on My Fox LA.
For more health tips from Dr. Ahluwalia, as well as videos of his other FoxLA segments, visit his Facebook page.
Sonu Ahluwalia, MD, is an internationally-acclaimed board-certified orthopedic surgeon at La Peer Health Systems, as well as the Clinical Chief of Orthopaedic Surgery at Cedars Sinai Medical Center in Beverly Hills. His private practice specializes in sports medicine, shoulder, knee and hip surgery.
Dr. Ahluwalia completed his orthopedic training at the Harvard Combined Orthopaedic Surgery Residency Program in Boston, one of the most sought after training programs in orthopaedic surgery. He has completed three fellowships, two at Harvard Medical School and one at Lenox Hill Hospital in New York City, on shoulder surgery, sports medicine, and joint replacement and joint preservation surgery. For more information please call 310-659-2910 or visit http://www.Ahluwalia.org.