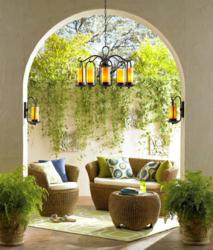 Think of the outdoors as an extension of your indoor space. Every good room begins with lighting.
Los Angeles, California (PRWEB) April 17, 2013
Lamps Plus, the nation's largest specialty lighting retailer, has long been a leader in home lighting. With the April release of its 2013 Outdoor Living catalog, the company announces the latest trendsetting outdoor lighting, furniture and decor ideas for the porch, patio or garden. Responding to a combination of design trends and recent consumer activity, Manja Swanson, Chief Creative Officer of Lamps Plus, outlines the best practices for outdoor design.
"We use our outdoor spaces for so much—reading, relaxing, throwing a party, taking a snooze," says Swanson. In summarizing the major themes in outdoor design, Swanson begins with the company's core expertise. "Increasingly, people are envisioning the outdoors as a room like any other—an extension of their indoor space. Every good room begins with lighting."
Effective outdoor lighting can increase safety while adding style and depth to the yard. For consumers looking to cut back on their monthly energy costs, LED landscape lighting is an energy efficient way to add a rich, layered look to a property. Landscape light kits in particular offer an easy, all-in-one way for homeowners to get started. For foot paths and walkways, path lights add safety. Many are solar powered, and can be simply staked to or placed on the ground for installation.
"One particular topic popular among urban planners and landscape architects is dark sky lighting for the home and garden," says Swanson. "Created in response to a growing movement to reduce light pollution in the nighttime sky, dark sky wall lights often reflect downward or against the wall, adding a stylish addition to the exterior without adding glare to the sky above."
Lighting, however, is only part of the outdoor equation. Lamps Plus carries a line of furniture and more to complete the outdoor space. Swanson explains, "From modern wicker chairs to Adirondack style loungers, it's possible to find designer-savvy, comfortable and durable outdoor furniture these days. Combined with textile accents, these designs help to soften your outdoor space." With features like UV protection and anti-bacterial fibers, outdoor rugs and pillows are bringing bright colors and patterns to the deck and poolside.
"Now that your outdoor space is comfortable and ready to go, invite guests over," continues Swanson. "This year we're seeing a lot of interest in outdoor entertaining. You can use playful string party lights or colorful candle lanterns to add ambience to your festive occasion. If you'll be cooking after dark, we offer long-lasting battery powered LED BBQ lights."
Still looking for more outdoor decorating projects after the guests have gone home? Swanson offers a final relaxation tip for insatiable DIYers: "Enjoy a fountain or an outdoor ceiling fan. The sound of running water or a nice breeze is soothing enough to slow down even the most zealous homeowner." When shopping for outdoor ceiling fans, consumers will note they are UL Listed for either damp or wet locations—meaning they're suitable for installation in either covered porches or directly outdoors, respectively. Swanson concludes, "Install the appropriate fan or fountain, sit back and enjoy the cool, calm comfort of your great outdoors."
ABOUT LAMPS PLUS
For more than 30 years, Lamps Plus has been synonymous with excellence in the retail lighting industry. Established in 1976, Lamps Plus is the nation's largest specialty lighting store, with more than 40 superstores throughout the western United States. Together with their retail locations and online business, Lamps Plus serves customers nationwide with the largest selection of functional and decorative lighting fixtures, accessories, furniture and home decor. This selection includes hundreds of products, ranging from traditional chandeliers to the latest in home decor, available exclusively from Lamps Plus. Services include in-home lighting consultations, in-store workshops and installation from expert, licensed electricians. American Lighting Association certified designers are available to offer product recommendations and advice in all our stores, by phone or online at LampsPlus.com. The Lamps Plus family of websites also includes 55 Downing Street, Lighting Luxury Style, Builders Discount Lighting, and Lamps Plus Open Box.