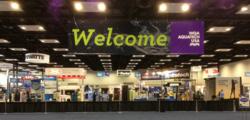 Santa Cruz, California (PRWEB) April 13, 2013
The WQA Aquatech USA conference held once per year attracts multiple water industry groups including drinking water, process water, and ultrapure water for residential, commercial, and industrial users. The WQA Aquatech USA event connects technologies, education, training, networking, and business opportunities between multiple water industries. This is the reason the staff and management at Clean Water Systems have been attending for many years.
Clean Water Systems & Stores Inc. provides custom water treatment systems for small community, commercial and residential applications. In addition to whole house water filtration systems, the firm provides commercial and industrial water purifications systems. By attending the show the staff at Clean Water Systems is able to meet other industry leaders and take part in technical seminars and certification programs.
"We saw some new or improved technologies at the conference this year, such as a so-called 'no salt water softener" or 'saltless water softener'", reported Gerry Bulfin CWS-VI, President of Clean Water Systems & Stores Inc. "Actually these devices do not soften the water, and are not softeners, but we enjoyed meeting with the manufacturers and learning more about the technology. Water softener salt brine discharge is a big concern in California and many other states we work in", said Mr. Bulfin. Other standard softeners such as the Fleck water softener control valve were featured, along with other water softeners with advanced water saving features.
Demian Ashley CWS took the certification exam for ozone technology. "I was a little nervous walking in however after sitting down and taking the test I feel rather confident that I passed it. We use frequently use ozone generators in our community and commercial iron treatment systems, and getting certified for ozone treatment was very useful", said Mr. Ashley, who has been a WQA Certified Water Specialist for many years.
Another WQA Certified Water Specialist, Brett Hydeman took the 'Filtration' additional certification exam. "I took my second Certified Water Specialist test, and selected the "Filtration" Specialty Exam. I chose "Filtration" because it covers a wide range of water filtration systems technologies; both point-of- use and whole house that we deal with at Clean Water Systems every day. My favorite part of the WQA conference is being able to meet representatives of other companies in person. It's nice to shake hands with business partners that we've previously only been able to talk to on the phone." reported Mr. Hydeman.
Sergio Hernandez CWS had a similar experience. "The conference was a great way to put a face to the suppliers for all the products we use for water treatment. It was an excellent opportunity to discuss new technologies, as well as have questions about current products answered. It was also good to learn more about what the Water Quality Association is currently doing, and see what new trends are arising. I took the disinfection exam to get a better grasp on what is the best method for our customers to have sanitary water based on what they are treating. The exam was challenging, but did provide a lot of useful information that has helped me to further help customers for safely using and maintaining their water treatment systems" said Mr. Hernandez
Clean Water Systems & Stores specializes in water treatment of contaminated well water in North America and has over 8000 customers in over 40 countries. The company provides custom easy-to-install water treatment systems and products in a large variety of different types and configurations including systems for removing iron, manganese, sand, odors, bacteria, turbidity and sediment. The company custom engineers commercial and industrial reverse osmosis and ultra-filtration systems for bottling water plants and commercial applications.