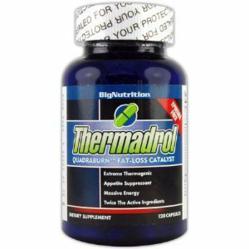 Port Saint Lucie, FL (PRWEB) April 13, 2013
Thermadrol by Big Nutrition has been making improvements on their weight loss pill, and now, they are adding Vitamin B12 to the roster of vitamins and natural substances to help dieters lose weight in a faster, more efficient way.
What Vitamin B12 primarily does to the body is support the production of red blood cells and help in the development of nerve cells, as well as metabolize proteins, carbohydrates and fats. This vitamin can be found in foods like meat, shellfish and dairy products like eggs, cheese and milk.
However, what does Vitamin B12 have to offer for weight loss? Above, it is mentioned that Vitamin B12 can help in metabolizing proteins, carbohydrates and fats. When mixed with appetite suppressants and energy enhancers, Vitamin B12 offers any dieter more options to use the stored energy in their bodies. Thermadrol with Vitamin B12 added may also be a big help, concerning that it can provide nutrients crucial for the body's small details like red blood cell production and nerve cell improvement. By adding Vitamin B12 to Thermadrol, BigNutrition is on its way to making a very effective diet super pill for hopeless dieters. Thermadrol can be purchased direct at Thermadrol.com or at Amazon.com