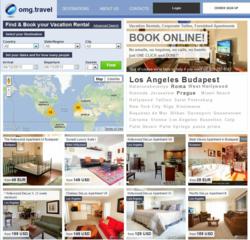 Travel is fatal to prejudice bigotry and narrow mindedness - Mark Twain
Los Angeles, California (PRWEB) April 13, 2013
This summer OMG.TRAVEL offers an increased variety of Los Angeles Vacation rentals, an accommodation alternative that probably many customers usually staying in hotels haven't considered yet. The savings can be significant and the experience is something definitely worth trying out.
Most travelers only look at hotels, as the standard and comfortable accommodation solution. Maybe it's time customers get out of their comfort zone and experience something different. Hotels are great of course for those who don't mind staying in a 300 sqf room and when they plan to eat out a lot and never stay at the room. But if a family or group of friends are looking to save by cooking at home, these Los Angeles furnished apartments may be a great alternative. And it's not only the savings on food or the extra space you get. The rates for these multiple bedroom vacation rentals compare with hotel room rates. When a usual 4 star hotel costs around $150 a night in a given area, travelers can get a 2 bedroom 2 bathroom furnished apartment. If that two bedroom apartment has a sofa bed, then at least 6 people can sleep in that apartment. Now let's compare the rates. Using the example above, in a hotel a customer pays $75 per person. In a vacation rental from OMG TRAVEL, it would be $25 per person per night for a group of six people. In this economy this is not a saving that customers should easily pass up.
These corporate housing solutions cater to short or long term stays as well. The monthly rates are even more appealing. As of April, 2003 the OMG TRAVEL has quadrupled its offering in the Los Angeles are because of the high demand. The majority of vacation rentals in Los Angeles by OMG Travel boast luxury and style accompanied by facilities like business centers, pool, Jacuzzi, sauna, spa, parking and Wi-Fi.
OMG offers a cloud based, complete vacation rental management software for vacation rental property owners at no cost. The owners can track their checkouts and check-ins, automate housekeeping scheduling and more. Unlike most third party booking facilitators, they don't withhold the Owner's funds. The travelers are able to pay the property owner directly via secure channels. Furnished apartment owners have to go through a strict verification process to ensure that the listings and the owners are real and reliable.