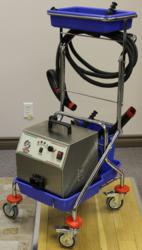 "The New York/New Jersey area needed a recognized steam cleaner distributor and reputable reseller", states Giuseppe Ruffalo, owner of Vapore Inc
New Milford, NJ (PRWEB) April 16, 2013
Kevin Farrell, owner of Kleen Steam in New Milford, NJ has been selling and using steam cleaners for over 10 years. In that time, he has branded an industry recognized name, "Vapor Chief" to signify commercial quality, workmanship, customer satisfaction, and heavy duty performance in a steam cleaner.
The new Vapor Chief SS is manufactured by Vapore. It's the same as the Vapore 2800. The car detailing industry has been using the Vapor Chief for many years. Farrell states that customers, who know the brand name, will love this new steam cleaner even more. In addition, other cleaning industries including hospitals, janitorial, housekeeping, restaurants, food packaging, hotels, and more will see the quality and many uses for this new model.
The new industrial steam cleaner was put through a vigorous 2 year testing program before it was introduced by Vapore. It already has sold thousands of units under the Vapore name in Italy and in Canada. Kleen Steam has sold it under the Vapore name for a while now as well. Farrell adds, this steam cleaner has earned the name, Vapor Chief and the company is proud to represent the Vapore line of commercial, industrial and home use steam cleaners
Kleen Steam and Vapore
In addition, Kleen Steam announces a continued partnership with the manufacturer, Vapore. "The New York/New Jersey area needed a recognized steam cleaner distributor and reputable reseller," states Giuseppe Ruffalo, owner of Vapore Inc. "Kleen Steam has a great internet presence, is widely looked at in the US as a leader in steam cleaning, and his knowledge of the vapor technology, is second to none. It was a perfect fit for us to partner together."
Vapore has an excellent reputation of manufacturing nothing but quality steam cleaners. Every steam cleaner is made in Italy and each one is certified for North American and USA use. They are ETL and UL approved. They also have medical certifications in 10 different virus, bacteria and pathogen elimination tests. Almost all government and medical agencies in Canada have been purchasing Vapore steam cleaners for the past 17 years. Ruffalo wants to make Vapore a household name and to partner with Kleen Steam, and use the Vapor Chief name was a perfect fit for both parties.
The new Vapor Chief SS improvements
The new Vapor Chief SS is continuous fill which is a huge advantage for most cleaning businesses. It is extremely portable and is very light weight for easer transport and maneuverability. It has built in "shut down' features. If the user does not maintain it and keep it clean, the steamer turns itself off until the simple maintenance is performed. This protects the heater and the boiler, so therefore a longer warranty is offered on the new unit. The new model will heat faster, has a higher wattage heater to hold pressure longer, and also a faster recovery time, as well as many other great features. It has huge pressure and is all Italian made.
With the available zero interest financing and other term options, Kleen Steam gives small business owners the opportunity to obtain needed equipment immediately with low monthly payments.
The Vapor Chief has been a well known brand name for a long time and the partnership between Vapore and Kleen Steam is expected to keep the Vapor Chief as one of the top name steam cleaners in the industry for a long time.