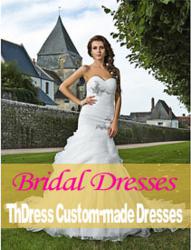 (PRWEB) April 12, 2013
Today, ThDress.com, a Chinese large-scale online shopping store, launches the latest discount on its A-line wedding dresses, up to 69% off.
The day before yesterday, ThDress.com released its A-line wedding dresses 2013 series that consist of 20 items and most of them are made of satin or taffeta fabrics. Today, the company launched a great discount on these new wedding dresses.
A-line wedding dresses are suitable for women of various ages. This kind of dress contains many types of neckline, such as strapless neckline, bateau neckline, one-shoulder neckline, and sweetheart neckline and so on. All kinds of neckline are beautiful, and you can choose the best wedding dress that you love most. And the material of the dress is the best, including satin, silk, and taffeta fabrics. You can find the best dress at ThDress.com.
In addition, ThDress.com is also offering similar discounts on its thousands of different styles of wedding dresses, including princess wedding dresses, beach wedding dresses, colored wedding dresses, vintage wedding dresses, plus size wedding dresses and so on. ThDress.com can provide you with various wedding dresses that you need.
About ThDress.com
Established in 2009, ThDress is a manufacturer specialized in the development and production of women's clothing such as wedding dresses and party dresses for girls. All of our products comply with international quality standards and are greatly appreciated in a variety of different markets throughout the world.
View more information about wedding dresses http://www.thdress.com