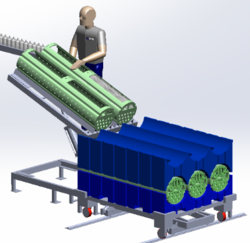 We repeatedly see company's double and triple handling their own product
White Pigeon, MI (PRWEB) April 16, 2013
How a company moves product from the end of the production line through High Pressure Pasteurization (HPP) is essential to providing the highest quality product at the lowest possible cost. "We repeatedly see company's double and triple handling their own product, and their customers' products," states Gerald Ludwick, President of All Natural Freshness. The typical process industry wide is at the production line product is loaded into a container and then moved to the HPP room. Product is then loaded into HPP baskets and High Pressure Processed. On the back side of HPP product is unloaded from the HPP Baskets, air-knifed and then loaded back into a container for shipping, giving the product three new touch points that didn't exist before HPP. At every other step of the production process food manufacturers and distributors take great care to minimize product touches, but not in High Pressure Processing.
HPP is a cold-water ultra-high pressure based technology that can drastically extend the shelf-life of totally fresh products. HPP is also known by the names High Pressure Pasteurization, High Pressure Processing, Pascalization, or processing by High Hydrostatic Pressure, and HPP. In High Pressure Pasteurization all natural food products are submerged, in water and then subjected to incredible water pressure. Under the intense pressure harmful bacteria and spoilage microbes are drastically reduced. The end result is a shelf life extension of between 2x and 3x the shelf life of that same product in its natural state.
All Natural Freshness designed baskets to increase loading and unloading speed by 50% and has designed material handling equipment to seamlessly integrate into operations with HPP at the end of production, across the street from the HPP machine, or 50 miles away from the HPP machine. Now, All Natural Freshness announces Stackable Tolling Pallets. "We designed the light weight, stackable tolling Pallets to give food manufacturers who are HPP'ing in-house and food manufacturers sending the product to an HPP Tolling facility the ability to drop their post production touches right back to zero," comments Jon Jurhs, Vice President of Business Development.
The typical process that All Natural Freshness recommends is that food manufacturers load product directly from production, into their standard Removable End Cap HPP Baskets, then load up to 6 fully loaded ½ baskets onto the Stackable Tolling Pallet for transport to HPP. The Stackable Tolling Pallets are perfectly sized for freight and are also equipped with steel casters for inter-facility handling allowing companies to eliminate double and triple handling, can reduce operating costs, reduce damaged product, and deliver the highest quality product.