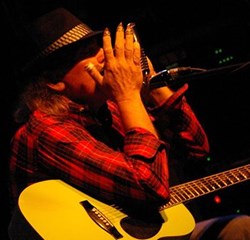 One of the most enjoyable evenings with an outrageously great player... loved it, can't get enough!
Bill Shenk
DelMar Music
Somerville, MA (PRWEB) April 15, 2013
Eric Sommer sees the value playing small, showcase rooms. The audience is closer, more immediate, and local. Mr. Sommer believes that if you want to make a difference and be close to your fans, there is nothing like playing small, intimate rooms.
Amen.
This Tuesday, April 16th, around 8pm or so, Eric will take the stage at Sally O'Brien's, one of a handful of small showcase rooms in Somerville, MA. Eric Sommer fans - and acoustic music devotees - will have an opportunity to see one of the finest guitar player's in the country stretch out with an array of remarkable guitars and small amps.
Union Square in Somerville is ground zero for the super heated Somerville-area music scene. There are many local stages with many wonderful venues and Tuesdays in Union Square are becoming the "go-to" night for music. It is the place to catch some of the best touring national acts who come thru the area and want to play on off nights.
Eric started his musical career in the Boston area and has been a regular player on many national tours and showcases. His influences are as diverse as Townes Van Zandt, Steve Earle, Steve Howe and The Ramones. Mr. Sommer's current project with power trio "The Solar Flares" shake up Chet Atkins and David Bromberg influences with those of ZZ Top and Elvis Costello - a remarkable mix.
With open tunings, slide guitar, lap-slap tone guitar and a remarkably aggressive fingering style approach, watching Eric Sommer will make you jump out of your seat and holler for joy! There are very few players who have maintained this authentic American style of guitar and Eric Sommer is one of the very best.
Eric Sommer is currently touring in support of his new record Rainy Day Karma and a number of songs off that disc - "Red Queen", "Sunny Afghanistan" and "Cover My Soul in Gasoline". Local band The Tuna Rangers will be playing the Late Show on Tuesday, April 16th.
________________________________________________________________
For Music Samples please visit CDBaby or Eric Sommer online for additional schedules or contact him at eric(at)ericsommer(dot)com or call 202-255-1995. Additionally, you can find Eric Sommer on Facebook, too. Rainy Day Karma is also available on CDBaby.
Eric Sommer is represented by Clyde is Thinking, and PR programs are managed thru MTG/NY; For more information, promo/appearance requests or to set up an interview, please contact Tom Monihan 202-255-1995.