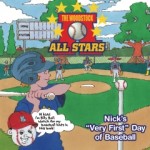 Baseball teaches children about how united a team feels when they are rooting for each other, or picking each other up when they fail.
New York, New York (PRWEB) April 15, 2013
Author Kevin Christofora brings America's pastime back where it belongs – into the hearts of kids. His Woodstock All-Stars is a delightful, interactive, and engaging book for children, designed to spark their interest in the beloved sport.
In Nick's "Very First" Day of Baseball, All Star Nick learns the basics of the game after dreaming about playing for ages. He practices throwing crackers to his dog, Yogi, and goes shopping for the perfect glove with his dad. On his first day on the field, he learns each base and gets a lesson in teamwork and cooperation from the members of his team.
Christofora, a successful engineer who left life in the big city behind to help coach kids' baseball, hopes to create a sense of excitement and fun with his books, and bring the very useful lessons of baseball to children. His goal was not to simply coach a team, but to coach the potential of American kids, reminding them that baseball teaches powerful lessons that are very applicable to life in general; things like team work, discipline, strategy, and thinking before acting are poignant tools that kids will use more and more as they age.
Christofora says, "Baseball has so many positive side effects. They learn dignity and how to treat each other with respect. It rubs off in the outside environment, like school. Every year you get a new team. Different kids to be friends with. Now, you can say 'hi' in school, at the shopping mall, or at the grocery store."
Beyond that, he says, there age-specific positive outcomes. For little kids, "It breaks the ice. It's the first time they leave mommy's hand and run onto the field." For only children, "It's a real eye-opener, because they have not been to school yet. It's a very new scene for most kids. They learn how to interact with other kids their size. They learn how to wait their turn and how to take direction from a teacher/coach. They learn from seeing other kids doing the same things. It alleviates the fear of doing it yourself. At the end of practice, they have conquered and are standing tall and proud that they did it!"
As children get older, there are just as many benefits; "For 'medium' kids and older kids, they are learning strategy—if there is a kid on first, then play to second." Far from the bullying that so often pervades children's lives today, "They are also learning how to rotate, take turns, and be a team, and they learn how united a team feels when they are rooting for each other or picking each other up when they fail."
The Woodstock All-Stars are perfect for kids of any age, introducing them to America's favorite sport and the values it holds. Additionally, The Woodstock All-Stars: Nick's "Very First" Day of Baseball can be sold as a fundraiser for kids' baseball teams, further encouraging the sense of community and working together that the book, itself, impresses.
To listen to Kevin Christofora's 'Little League and You' show, tune into http://podcasts.am1020whdd.com/~am1020wh/shows/index.php
Kevin Christofora
Written for children ages three to five, Kevin Christofora wrote The Woodstock All Stars as a "bedtime story" to get kids interested in the national pastime again. His goal in writing this book was to get kids out of the house and onto the field – "more green, less screen!" He believes in the valuable lessons that children learn from playing the game: teamwork, discipline, strategy, and thinking before they act. In addition, he wants to bring back the joy of being outdoors and playing for fun that kids in recent years have lost.
Christofora gave up the corporate life to move back to his hometown and become a butcher, a dad, and a Little League Coach. He has found more happiness doing this than he ever had before, and he hopes to pass the excitement of the game to other children with The Woodstock All Stars. This is his first book.
Learn more about the book at http://www.thewoodstockallstars.com