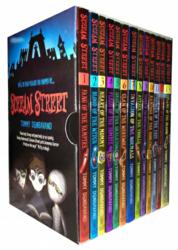 leceister, uk (PRWEB UK) 15 April 2013
Scream Street Collections is a set of horror stories. The mysteries in all the 13 books sets are definitely going to chill your bones.
The series includes:
Fang of The Vampire, Blood of The Witch, Heart of The Mommy, Flesh of The Zombie, Skull of The Skeleton, Claw of The Werewolf, Invasion of the Normals, Attack of the Trolls, Terror of the Nightwatchman, Rampage of the Goblins, Hunger Of The Yeti, Hunger Of The Yeti, Flame Of The Dragon.