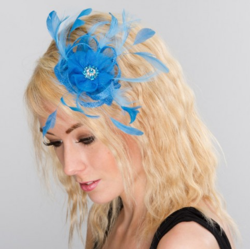 New York (PRWEB) April 13, 2013
Anyone who has had an eye on the most popular fashion trends of 2012 will not be surprised to learn that hair fascinators were one of the runaway successes of the year. Popular millinery retailer Fascinator Store has recently posted their sales figures for the last quarter of 2012, and they clearly show that the demand for this popular style of formal and bridal headwear is undergoing unparalleled demand from the general public.
The key event that triggered this surge in interest in this type of headwear was of course the royal wedding of 2011, between Prince William and Catherine Middleton. Many trendsetting and influential guests wore this style of millinery to the wedding, and therefore planted them in the subconscious of the general public for many months and years to come. While this headwear is now a common site at many less prestigious weddings across the country, it has also been spotted at many other events including church services, garden parties and horse races. This shows that the fascinator has transcended its initial status as wedding and bridal headwear, and is now being worn for many different types of occasion, helping to boost their sales, as has been reported by the Fascinator Store. Due to this increase in demand, which caught some retailers on the hop, many were unable to meet the public's demand for these products, which forced them to turn away many potential customers who were poised to buy, with cash in hand
When asked for their predictions on what will be the hottest headwear trends of 2013, and whether the fascinator will continue to be as popular,http://www.fascinatorstore.co.uk replied that they expected this piece of headgear to continue on its current popularity levels. They even suggested that they expected sales to increase in the second half of 2013, due to this headwear being positioned upon the heads of many leading ladies at the forthcoming Royal Ascot races, held in June, leading to a summer-time rush on the styles of fascinators worn during the races.
In fact, while Ascot insists on a strict dress code, it is yet to be seen whether the fascinators will be able to replace traditional Ascot hats, which have usually been larger and more flamboyant than the smaller fascinators that have been designed so far. It will take a creative fashion designer to create something extravagant enough to turn heads at Ascot, while still remaining in the confines of the description of a fascinator, but the chance that someone will do it are pretty high.
Even though this type of headwear is extremely popular with the upper echelons of society, it doesn't mean they are out of the reach of regular shoppers looking for something smart and fashionable to complete their formal outfits. The Fascinator Store advised anyone interested in this type of headwear to keep an eye out for their forthcoming millinery hat sale which they said, will contain many impressive models at affordable prices.
While this form of headwear was a surprise hit of the last few years, its popularity shows no signs of abating as we enter the middle of 2013. Whether it can hold its position into the last quarter of 2013, and beyond, remains to be seen. But for now hair fascinators are here to stay.