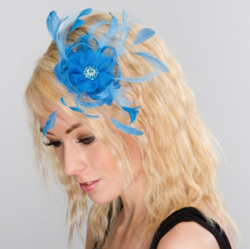 (PRWEB UK) 13 April 2013
Thanks in part to their recent increase in exposure, during the key events of 2011, the hair fascinator is all set for a bumper year in 2013. Although this type of headpiece has been around for many, many years, with a long and rich history, it wasn't 2011 that they caught the interest and imagination of the general public. The event that catapulted this style of millinery into the public consciousness was of course the Royal wedding of Princess William and Catherine Middleton. Many guests, most notably Princess Beatrice of York and Victoria Beckham, wore striking hair fascinators, which while met with initial scepticism from some quarters have gone on to become an increasingly popular choice of headwear for many occasions.
All this media attention and interest from the public, as well as a-list celebrity endorsement, has led to a surge in sales of this type of millinery. These factors have prompted the Hair Fascinator website, which specialises in this style of headpiece to predict sales to continue to grow in the last half of 2013, despite the country facing difficult economic times.
Judging by their prediction, based on previous sales figures and an increased awareness of this type of headpiece amongst the general public, it appears that, for the right occasion, people are prepared to go out and spend money for the perfect outfit. With Royal Ascot marking the midway point of the year, the website expects to see many sales of Ascot Hats by those attending the races as well as from those attending similar local events. From then on, the expected increase in coverage is predicted to cause sales to soar until at least the end of the year.
Ever since this form of millinery was reimagined at the royal wedding, it is no surprise that its use as bridal headwear is also gaining in popularity. Due to their newfound celebrity status coupled with the ease of wear and the many great designs on sale, they have become the perfect choice for women wedding guests who desire to look formal but also up-to-date with the latest fashions trends.
All this good news regarding the popularity of the hair fascinator has led to many retailers holding a millinery hat sale in the days preceding a well-known formal event, such as the Royal Ascot races, to boost sales. This has helped convince those unsure whether this type of headpiece is for them, to take the plunge and pick up a fascinator at a great price.
With 2013 proving to be a bumper year for the hair fascinator and with sales predicted to grow even more, now is the perfect time to make your fashion statement and get in on this trend before it reaches saturation point. To find out more about hair fascinators and see the latest designs, visit the popular bridal headwear and millinery website at http://www.fascinatorstore.co.uk/