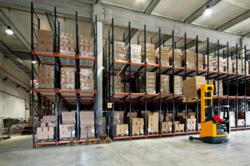 Speak to one of our industry specialists at Multimodal 2013, stand 250.
Liverpool (PRWEB UK) 12 April 2013
OBS Logistics will be launching its CALIDUS Total Logistics Software Solutions at Multimodal 2013.
The integrated suite of transport and warehouse management software supports the entire logistics operation for end users and third party logistics providers and improves visibility across the supply chain.
The system benefits from a user friendly, intuitive interface, and comprehensive reporting and analysis capability.
In addition to the core planning optimisation and operational management across transport and warehouse functions, the system features bonded warehousing for products under bond or duty paid, rail terminal integration for seamless container handling across mixed mode transportation, wireless mobile integration for RF scanning, as well as in cab communication including electronic proof of delivery.
Dave Renshaw CEO says, "We are delighted with these most recent enhancements to our solution which enables third party logistics providers and end users to tightly integrate their supply chain and to use our secure managed services facility to guarantee a robust and resilient operational system."
About OBS Logistics
OBS Logistics specialises in creating warehouse management software and transport management software for third party logistics providers and companies running complex logistics operations. OBS Logistics' software customers include Potter Group Logistics, Hanson, NFT, Wincanton, Barnvale Processing and Woodland Group.