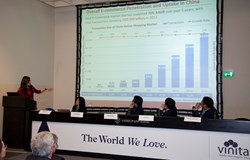 Talk Business Series: Mrs Janet Wang (Tmall/Alibaba Group), Mrs Stevie Kim (Vinitaly International), Mr. Alvin Huang (Vinehoo), Mr. Jared Liu (YesMyWine) and Mr. Naran Andreyev (M1nt Cellars) discuss the Chinese online wine market.
Verona (PRWEB) April 12, 2013
An important official Chinese delegation as well as the giants of the Chinese E-Commerce and Social Media got together at the 47th edition Vinitaly to present the current state of the Chinese wine online retail market and investigate new models of collaboration with the world's largest wine fair.
Vinitaly International presented the "Talk Business Series," which included seminars pertaining the future for Italian wines in China. First Secretary Shao Li of the Department of Foreign Trade (Ministry of Commerce) of China as well as Mr. Xuwei Wang, Secretary General of the newly established China Association for importers & Exporters of Wine & Spirits revealed that the country imported 31 million litres of wine in 2012 and emphasised that more collaboration between the countries is planned.
Giovanni Mantovani, CEO of VeronaFiere welcomed the MOFCOM delegation (Ministry of Commerce of the People's Republic of China) and opened the discussion with the observation that: "China represents the most important emerging market for the Italian wine today. In the last two years Italian wine had to give up two positions in this market, namely to Spain and Chile, which overtook us in market share. I hope at our 50th anniversary of Vinitaly we can celebrate a double-figure market-share in China [currently 6%]. I would like to see Italian wine as a protagonist in China."
The way to increase market share for Italian wines and "E-Commerce: Breaking Down the Great (E-)Wall in China" was elaborated in depth by the following speaker. Janet Wang, (Head of International Business Development Tmall/Alibaba Group), Jared Liu (Founder/CEO of YesMyWine), Naran Andreyev (CEO, M1nt Cellars), Alvin Huang (Founder of Vinehoo), Gong Dan (Senior Editor of Sh.QQ.com/Tencent Group) and Leos Tian (Director of New Food Magazine) outlined the large possibilities and intricacies of Chinese online sales as well as social media promotion with concrete examples.
The speakers presented very different models of wine sales and online promotion in China. The market is estimated to be worth some 2.8 trillion Yuan (US$ 457.6 billion) by 2016 according to go.globe.com. Tmall, YesMyWine, Vinehoo and M1nt Cellars revealed some of the numbers: Tmall, the consumer platform of the Alibaba Group has 57% of B2C market penetration and sells 500.000 bottles in one day. Also 100.000 liters of wine was sold during the Chinese New York. Janet Wang, Head of International Business Development elaborated that Tmall had US$ 32 billion in sales volume in 2012, which makes it Asia's largest B2C site. On peak days sales can exceed 2.1billion us dollars.
Jared Liu, Founder/CEO of YesMyWine sells between 20.000-120.000 bottles of wine per day resulting in the company being the thirteen largest importer and third largest seller of wine in China. The company integrates a C2B approach to judge the Chinese taste, pricing sensitivity and promotion for new wines before selling them on the market. Consumers receive randomly wine at home to blind-taste it and part take in a comprehensive survey which is then used to gauge the market.
Alvin Huang, founder of Vinehoo explained the tools of Social Flash Sales, which has wines in limited quantity and on limited time accessible to buyers online. Through guided wine promotion, forums, online-to-real-world wine tastings, group blind tastings, aggressive pricing policies and brand building the company sells wines directly to registered members and expects an income of 10 Million € in these sales by 2014. Surprisingly, Vinehoo does not have any no marketing expenses but builds upon reputation.
The senior editor of QQIM from Tencent Group explained the educational and promotional possibilities that Italian companies do have in the world's largest online community with 784 million active user accounts, with approximately 157 million users online, with each QQ users have at least 70 friends and QQ dialogues over 8 billion times a day.
CEO of M1nt Cellars, Naran Andreyev shed light on their marketing strategies and how to conduct luxury branding, placing high-end products in the market and integrating them in a lifestyle campaign, with the leading nightclub in Shanghai and the five star restaurants belonging to the brand.
Leos Tian, Director of New Food Magazine said: "The cost of trust is very expensive, because there are many falsified wines, rumors or people just don't know you. Hence you have to invest a lot in trust and brand loyalty."
Stevie Kim, Managing Director of Vinitaly International said: "We seek to facilitate a dialogue and educational sessions for Italian wine producers to better understand the market opportunities by connecting directly with main players, hence, the name "Talk Business Series". We have dedicated a special attention to the Chinese market this year but we would like to present other important markets for the Italian Wines, where Vinitaly International travels to, such as Russia and the USA. Albeit, the seminars were standing room only, many producers were unable to attend due to their busy agenda. We are toying with the idea of organizing the Talk Business Series next year on the Saturday preceding the opening of Vinitaly. By the same token, the presentation of the speakers will be available online via slideshare through our social media channels, so stay tuned."
The seminar series on the Chinese e-commerce also highlighted the discussion of the new VinitalyWineClub (http://www.vinitalyclub.com) platform that launched its online store in Italy, with numerous European countries and China soon to follow.
The 47th edition of Vinitaly counted some 148,000 visitors (+6%), of which 53.000 were international attendees (+10%) visiting from 120 countries. On 95.000 square meters, 4.200 exhibitors welcomed trade professional, media and producers alike. The next installment of the fair with take place on 6th-9th April 2014.
About:
Veronafiere is the leading organizer of trade shows in Italy including Vinitaly (http://www.vinitaly.com), the largest wine event in the world. The 47th edition of Vinitaly counted some 148,000 visitors (+6%), of which 53.000 were international attendees (+10%) visiting from 120 countries. On 95.000 square meters, 4.200 exhibitors welcomed trade professional, media and producers alike. The next instalment of the fair with take place on 6th-9th April 2014. The premier event to Vinitaly, OperaWine (http://www.OperaWine.it) "Finest Italian Wines: 100 Great Producers" will unite international wine professionals on April 5th 2014 in the heart of Verona. Veronafiere also created Vinitaly International http://www.vinitalytour.com in 1998 to develop a global platform for the promotion of companies in the Italian wine and food s