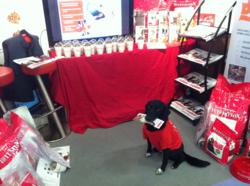 Wuffitmix have offers on every item acorss their range in a super sale
(PRWEB UK) 15 April 2013
Wuffitmix have been very active over the last twelve months as their approach to animal care has seen them rise in popularity. In 2012 Wuffitmix sponsored many ill-treated dogs by giving them the nutritious dry dog food for free. They also gave away puppy food to abandoned puppies, and let customers know that with every purchase a bowl of Wuffitmix Dog Food would be donated to rescue centres.
In 2012 Hannah Dugdale, the manager of Wuffitmix visited Thailand to meet the dogs Wuffitmix had become involved with via the Soi Dog Foundation. This charity campaign for better treatment of dogs in Thailand and rescue those dumped on the streets or abused by their owners. They work hard to bring each canine back to health before finding them homes were they will be safe in the future.
It's this focus on animal welfare that has propelled Wuffitmix to the top, as they are not simply a sales orientated company. Formed by a family they developed the dry dog food to give all pet owners the chance to offer their dogs a nutritionally balanced, delicious food that supports the natural immune system.
Now, they are revealing that March has been a record breaking month with sales exceeding their expectations. As word of mouth has spread more stockists have chosen Wuffitmix for their shelves, making it the popular choice for pet shop owners across the UK.
Wuffitmix understand that this success is only due to the loyalty of their growing customer base and so are rolling out rewards to say thank you. From today they have discounts and offers on every product across their range from puppy food to senior dog food, so everyone can buy Wuffitmix for less.
Hannah Dugdale is pleased with the developments, she says, "we hope our super sale gives customers the message we want to convey as we want to say a huge thank you for supporting us. We still continue to work with many animal charities as well as sponsoring individual dogs and this will never stop. Of course sales are important but we do measure success on how many dogs we help too. It's rewarding to know that so many are now receiving the nutrients they deserve through eating Wuffitmix."
WuffitMix is a range of nutritionally complete diets for working, sporting and domestic dogs - from puppies to seniors. Wuffitmix is owned by Dugdale Nutrition, a family run animal feed manufacturer based in the North West of England. The business dates back to 1850 and spans over 6 generations, with 2 generations currently working at the company premises in Clitheroe, Lancashire.