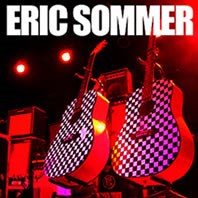 I was not prepared for this in any way. Now I can't get enough... that's a live show that won't quit!
Betsy Randall
The Betsy Music Blog
New Hope, PA (PRWEB) April 30, 2013
Eric Sommer has three things going for him: an amazing collection of guitars, beautiful vintage mics from the 1950's and the "Wall of Amps" behind him range from the 30's to the 60's.
Make that four things - as a singer, writer and guitar player he is in a class by himself - one of the best of the best.
For lucky Philadelphians, Eric has made it a point to work the Mainline music scene. In the past five years he has appeared at John and Peter's in New Hope a number of times and in central and southern New Jersey as well. His combination of blazing guitar work, a raw power-pop style delivery and some very solid songwriting begs the question: how long will this guy remain under the radar?
RAINY DAY KARMA is a new disc from Eric Sommer & The Solar Flares, and Eric Sommer is out in front of the record, making the rounds, playing the shows... making a difference. The New Hope PA show will feature a lot of the songs off this disc but also will highlight new material scheduled for inclusion in the second record.
The follow-up disc to RAINY DAY KARMA is being recorded in May - also in Pittsburgh - and should be ready for fall release.
Eric started his musical career in the Boston area and has been a regular player on many national tours and showcases. His influences are as diverse as Townes Van Zandt, Steve Earle, Steve Howe and The Ramones. Mr. Sommer's current project with power trio "The Solar Flares" shake up Chet Atkins and David Bromberg influences with those of ZZ Top and Elvis Costello - a remarkable mix.
With open tunings, slide guitar, lap-slap tone guitar and a remarkably aggressive fingering style approach, watching Eric Sommer will make you jump out of your seat and holler for joy! There are very few players who have maintained this authentic American style of guitar and Eric Sommer is one of the very best.
Eric Sommer is currently touring in support of his new record Rainy Day Karma and a number of songs off that disc - "Red Queen", "Sunny Afghanistan" and "Cover My Soul in Gasoline".
____________________________________________________________________________
For Music Samples please visit CDBaby or Eric Sommer online for additional schedules or contact him at eric(at)ericsommer(dot)com or call 202-255-1995. Additionally, you can find Eric Sommer on Facebook, too. RAINY DAY KARMA is also available on other popular sites.
Eric Sommer is represented by Clyde is Thinking, and PR programs are managed thru MTG/NY; For more information, promo/appearance requests or to set up an interview, please contact Tom Monihan 202-255-1995.