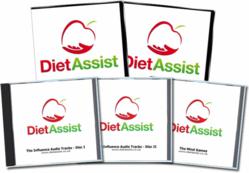 a 500ml glass of freshly squeezed orange juice is almost as sugary, pound for pound, as Coke, and it contains more calories than a can of Coke
London, UK (PRWEB UK) 13 April 2013
DietAssist has issued new advice after research for Mailonline exposed that a 250ml serving of white grape juice contains the same amount of sugar as four Krispy Kreme glazed doughnuts.
Up until recently, fizzy sugary drinks like lemonade and cola have always been viewed as one of the main contributors to growing waistlines by parents and dieticians.
However, more and more experts are now warning that sugary drinks in any form are to blame.
This causes a real problem for parents as fruit juice has always been seen as a healthy option that children love. But according to the research, a 500ml glass of freshly squeezed orange juice is almost as sugary, pound for pound, as Coke, and it contains more calories than a can of Coke!
Paul Howard, co-creator of DietAssist, said "Children love fruit juice, and it was one of the first words my little girl learned. However, when you take into account how much sugar juice contains, it becomes an easy choice for our family. After all, we wouldn't dream of giving her a whole packet of hobnobs to eat."
It's not just juices that cause a problem. A Burger King large chocolate milkshake contains a whopping 612 calories, 12g fat and 102.4g sugar. Even Lucozade's sport elite orange (500ml) has 195 calories and 40g sugar.
DietAssist say that parents need to be far more conscious of the long-term goals when they make decisions about what their children are allowed to drink. Otherwise they will be helping their children to become DietAssist customers in 20 or 30 years time.
Although the DietAssist programme is designed to correct inappropriate conditioning towards food, they say it is much better to give children a life where this conditioning does not occur in the first place.
By understanding the facts and conditioning children to eat and drink more appropriately, it will give them one of the best gifts they will ever receive.
The DietAssist programme is the result of over 20 years experience of helping people to lose weight effectively, and uses the latest psychological techniques to avoid the self sabotage and demotivation that dieters commonly experience.
The DietAssist programme helps dieters strengthen their motivation and resolve, and creates the optimum psychological state for success. It is designed to work alongside any weight loss programme or sensible eating plan.
People wishing to learn more about how DietAssist can make losing weight easier can join the 30 Day Weight Loss Challenge, in which members of the public can receive 30 days access to the DietAssist weight loss programme for just £1 so they can see how well it works in practice.