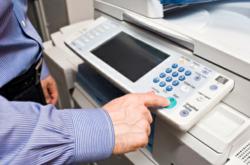 Atlanta, GA (PRWEB) April 15, 2013
1-800 Courier, a national leader in same-day delivery, distribution and transportation services throughout the US, announces document printing and delivery services nationwide. The same-day courier created the service to provide service flexibility, on-demand services, improve customer loyalty and increase sales growth. 1-800 Courier strives to be the best choice for superior one-stop courier solutions throughout the US.
With 1-800 Courier's document printing and delivery services, their customers can conveniently e-mail or fax documents to be printed and delivered to their requested destination. The document printing and delivery service can be delivered within the standard 4-hour service or express 2-hour service. Customers are still provided with the same service time frame as standard delivery, with the exception of courier deliveries over a 50-mile travel distance.
1-800 Courier will provide its customers with a corporate dispatch e-mail address or fax number to submit the document. Once their dispatch department secures the document, it is then forward to the dispatch center nearest to the client's order destination. 1-800 Courier schedules the ready time for the order upon receipt of the document to be delivered. The document printing fee is combined with the service fee to equal the total delivery rate. The document size limit cannot exceed twenty pages in length and is recommended to be placed via phone.
The document printing and delivery service provides customers with a service level utilizing modern technology to meet their courier needs nationwide. For special requests, 1-800 Courier Customer Service Specialists are available to assist their customers 24/7. 1-800 Courier also provides automated online tracking capability, as well as e-mail notifications to communicate the status of the document pick up and delivery.
1-800 Courier is a recognized leader same-day courier of same-day delivery, transportation and distribution services. From small packages to palletized freight, 1-800 Courier delivers on-time and fast. From its headquarters in Atlanta, Georgia, 1-800 Courier successfully services a growing list of over 1,500 clients, including Fortune 500 Companies throughout the US.