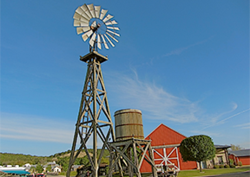 April is always a big month for bus conversion owners and other RVers, and this year is no exception
North Chicago, IL and Stuart, FL (PRWEB) April 12, 2013
This week, all roads lead to Texas – more specifically, Kerrville, Texas and the Buckhorn Lake Resort – where final preparations are underway for Liberty Coach's annual Texas Spring Rally.
Scheduled to run from Wednesday through Sunday, April 10-14, the Texas Rally is always one of the most popular events on the Liberty Coach calendar, attracting dozens of coach owners from all over the country. And no wonder.
"Of all our major rallies, few compare to this one in terms of things to see and do," says Liberty Coach V.P. and co-owner Frank Konigseder, Jr. "It's just over an hour to downtown San Antonio and the River Walk, the Alamo, and everything else the city has to offer. It's even a shorter drive to Fredericksburg and the National Pacific War Museum. And for those who just love to drive and see the sights, there's nothing like the back roads here in the heart of the Texas hill country."
Konigseder notes that the Texas Rally is just the first of several rallies and events on tap for motorcoach aficionados across the country over the next month.
"April is always a big month for bus conversion owners and other RVers, and this year is no exception." He points out.
"Next weekend, there's Owners Weekend at Heritage Motor Coach Resort & Marina in Orange Beach, Alabama, where (Liberty super salesman) Dave Wishnoff will be on hand with his own coach, and the Road Hogs Spring Rally, April 18-23 in Charleston, SC.
"And two equally big events are slated for the following week: the Bus N' Biker Rally at Distant Drums RV Park in Camp Verde, Arizona (April 21-27), and the Royal Coach Rally at American Heritage RV Park in Williamsburg, Virginia (April 22-26), where Liberty Coach is an official sponsor."
The spring schedule culminates in May at the annual Prevost Prouds Rally at Harrah's RV Park in Tunica, Mississippi, where Liberty will have four coaches on display as well as the company service truck. Coaches and company reps will be available at all of the other events, as well.
For complete information on scheduling, reservations and details for all Liberty Coach events, visit http://www.libertycoach.com/events.
With locations in Stuart, FL and North Chicago, IL, Liberty Coach has been providing legendary leadership in the luxury motor coach industry for over 40 years.
For more information about Liberty's custom Prevost motor coaches, please visit http://www.libertycoach.com or call 800-554-9877.