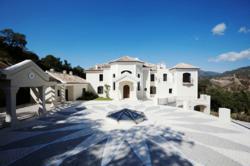 Whilst a property bought in London would endure approximately 10 days of rainfall in March and April and 110 days of rainfall per year, Marbella enjoys 320 days of sunshine on average per year.
Marbella, Spain (PRWEB UK) 16 April 2013
Investing in Marbella luxury villas is a smart choice when searching for a place to escape the UK's relentless cold weather. As well as the climate, recent changes to the cultural scene and transport system are making Marbella the most attractive place to live abroad right now. As a result of this and the proposed future expansion of the port in Marbella, the property market looks set to recover according to Fine & Country.
Whilst this March was the joint fourth coldest ever on record in the UK, it is 14⁰C on average in Marbella during the same month. Whilst a property bought in London would endure approximately 10 days of rainfall in March and April and 110 days of rainfall per year, Marbella enjoys 320 days of sunshine on average per year. These statistics suggest that investing in a villa in Marbella provides a high quality of life in a superior climate. The above luxury villa is an example of La Zagaleta villas for sale and is set in the hills with a spa and swimming pool, perfect for the Spanish weather.
Michael Lovett, Director of Operations, Fine & Country Marbella says, "The attraction of Marbella is at its peak right now, not just because of the unfortunate weather in the UK but because the area is undergoing a real rejuvenation. Changes to the cultural scene and the transport system, making journeys to and from Málaga airport far quicker and easier, have recently been made to re-establish Marbella as the place to live and as a result, the future of the property market is promising."
The 84 million euro potential expansion of the port in Marbella will spearhead the revitalisation taking place in the area. It will potentially benefit both the area's economy and the lifestyle of those living there, meaning that over the next four years, cruise ships would be able to anchor at the port and there would be more berths for private boats and yachts.
In the last year the transport network in the Costa del Sol has been dramatically improved. These changes provide those living in luxury villas with more advantages, such as easy travel in the area and access to the main cities in Spain and the opening of the San Pedro tunnel last year has rid the area of a former congestion problem. Inhabitants enjoy the tranquillity and seclusion of their luxury villas, whilst also being able to benefit from the AVE (high-speed train) which allows access to the rest of Spain by providing a journey time to Madrid of less than 3 hours and access to Barcelona in less than 6 hours.
Nearby Málaga has been long established as a cultural hub because of its annual festivals and status as the City of Museums, however it is experiencing a cultural rejuvenation with new projects such as a Wine Museum, Heritage Museum and Fine Arts Museum. Málaga can be reached in just 45 minutes from the luxury villas for sale in La Zagaleta and provides those who live there with accessible culture, restaurants and night life.
Sources:
http://metofficenews.wordpress.com
http://www.holiday-weather.com/marbella/averages/march/
http://www.metoffice.gov.uk/climate/uk/averages/19812010/sites/greenwich.html
Editors Notes:
Fine & Country specialise in selling luxury homes (above £450,000) and is one of the leaders in this sector. Its licensees' properties are distinguished in their individual character and/or their country location. The company has offices in 300 locations around the world including in the UK, Dubai, Egypt, France, Malta, Mauritius, Namibia, Portugal, Qatar, Spain, South Africa and West Africa. Fine & Country won Best Estate Agency Marketing and Best International Estate Agency Marketing in 2009, 2010, 2011 and 2012 at the International Property Awards.
Media Enquiries:
Francesca Harrington or Sinead Egan – Fine & Country Media Centre
Tel: +44 (0)207 4094673
Email: mediacentre(at)fineandcountry(dot)com
Office details:
Marbella Club Hotel
Bulevar Principe
Alfonso von Hohenlohe
29602 Marbella
Malaga
Spain
Tel: +34 952 764010
Fax: +34 952 765008
http://www.fineandcountry.com