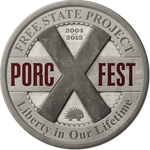 I am very excited to be part of Porcfest. It is one of the great libertarian events, and it's in my favorite state. - Lew Rockwell
Portsmouth, NH (PRWEB) April 12, 2013
Renowned libertarian commentator, writer, and primary spokesman of the ascendant "Austrian School" of economics Lew Rockwell will present a keynote speech this June at the Free State Project's Porcupine Freedom Festival in New Hampshire.
The Porcupine Freedom Festival, commonly known as PorcFest, is the Free State Project's flagship annual summer gathering. This year's PorcFest X – the 10th Anniversary celebration – will be held at Roger's Campground in Lancaster, NH, from June 17 - 23, 2013.
On Friday, June 21, Lew Rockwell will deliver a one-hour keynote entitled Our Job as Libertarians. Rockwell is the founder and chairman of the Ludwig von Mises Institute, editor of #1 libertarian website LewRockwell.com, and former Ron Paul congressional chief of staff. This will be his first PorcFest speaking engagement.
"I am very excited to be part of Porcfest," Rockwell notes. "It is one of the great libertarian events, and it's in my favorite state."
Having grown in size and scope since its inception in 2004, PorcFest now typically draws over 1,200 of the liberty movement's finest liberty activists from across the globe. This safe, fun, and friendly week-long event is packed with parties, panels, classes, food carts, children's activities, and more. The festival is meant to showcase the state of New Hampshire and the thriving libertarian community of Free State Project participants; but it has grown into the world's largest annual festival for libertarians of all stripes.
The Free State Project is an agreement among 20,000 participants to move to New Hampshire, where they will work together to create a society in which the maximum role of government is the protection of life, liberty, and property. More than 14,000 people have signed the Statement of Intent, and over 1,100 have already made the move to New Hampshire.