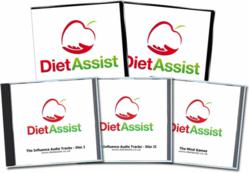 For many people, Sunday afternoon marks the end of their weekend freedom and the start of the Monday work blues
London, UK (PRWEB UK) 14 April 2013
Dubbed "fat o'clock", 48 per cent of 750 people surveyed said they were most prone to munching on unhealthy snacks such as crisps and cake between 7pm and 10pm on Sundays.
A further 29 per cent said they were most likely to fall off their diet plans between 3pm and 5pm the same day.
The study also found much over-eating was work-related, with 65 percent saying they raided the biscuit barrel if they had a bad day at the office.
Another factor encouraging comfort eating is eating lunch at your desk. 46 percent of those surveyed had lunch at their desks  - and half of those said this encouraged them to eat more later.
Co-creator of DietAssist, Rob Woodgate, says "The survey confirms that the danger times for overeating are when we are distracted or feeling negative emotions. For many people, Sunday afternoon marks the end of their weekend freedom and the start of the Monday work blues."
"At DietAssist, we believe that over 95% of eating is emotionally driven, and that is why dieting is usually so hard using willpower alone. We teach people how to lose weight more easily by taking back conscious control of their eating habits and behaviours so that they can avoid comfort eating or mindless eating."
The DietAssist programme gives dieters a deep understanding about how their mind works, and how to use it to their advantage – whatever diet or sensible eating plan they are using. It aims to help them to take back control over their eating behaviours and teaches them to act more appropriately in relation to food and eating in the future.
The DietAssist programme is the result of over 20 years experience of helping people to lose weight effectively, and uses the latest psychological techniques to avoid the self sabotage and demotivation that dieters commonly experience.
The DietAssist programme helps dieters strengthen their motivation and resolve, and creates the optimum psychological state for success.