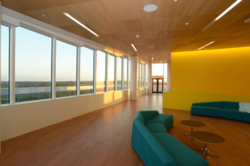 The warmth of wood combined with superior acoustics
Agawam, MA (PRWEB) April 14, 2013
Sound Seal, a leading manufacturer of architectural and commercial acoustic noise control products, announced that its WoodTrends division has received two CISCA awards this year at the awards ceremony in San Antonio, Texas. Every year, the Ceilings & Interior Systems Construction Association (CISCA) celebrates their Construction Excellence Awards. Projects are entered into four categories: Acoustical Solutions, Ceilings, Renovations and Interior Finishes. Each category has four regions—North, South, Central and West—and winners are selected in each category and region. CISCA is dedicated to serving the acoustical, specialty ceilings and interior finishes industry.
Sound Seal's WoodTrends division received two Gold awards in the Acoustical Solutions and the Ceilings categories.
WoodTrends received a Gold award in the Acoustical Solutions category, South region for the James B. Hunt Jr. Library Project in Raleigh, North Carolina. The project, designed by Snohetta of Norway, incorporates many advanced building materials and techniques. Sound Seal provided the acoustical materials required in two very unique spaces of the building: the Gallery and the Skyline Reading Room. Both spaces utilized Sound Seal WoodTrends Topline Planks throughout the area.
The WoodTrends division won another Gold award in the Ceilings category, Central region for the Trinity Lutheran Church project in Owatonna, Minnesota. Designed by I&S Group of Faribault, Minnesota with installation by Twin City Acoustics of Plymouth, Minnesota. The WoodTrends Elite Acoustical Wood Ceiling Panels in Bird's Eye Maple dominate the enclosed passage between the main entrance and the nave of the church.
About Sound Seal
Sound Seal is a leading manufacturer of architectural and commercial acoustic noise control products and offers a wide product selection to the soundproofing industry. Sound Seal has stayed true to this vision and consists of three product lines: The Architectural Division which handles interiors, The Industrial Division which deals with outdoor and in-plant noise control, and the Impacta Flooring Division which deals with floor underlayments. For more information, visit http://www.woodtrends.com and http://www.soundseal.com.