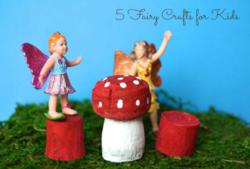 Making toadstools and creating fairy scenes will spark some magic playtime.
Dallas, Texas (PRWEB) April 15, 2013
Five whimsical and fun fairy crafts have been released on Kids Activities Blog. The crafts will surely make a magical afternoon for any fairy-loving girls.
Making a fairy table set is both fun and will spark a girl's imagination. Creativity is the key to this whimsical and fun fairy craft. The fairy table set is simple to do and adds a bit of magic to the day. The kids will love painting the details and will add their imagination to create little fairy cafes and magical places.
To make the fairy table set, one needs a champagne cork for the table and wine corks for the stools. Cut the wine corks in half. Invite the child to paint the table and the chairs with washable paint. The table will look perfectly cute when painted as a toadstool.
Let the kids' imagination roar and let them have fun with the set outside in the yard. Additional magical fairy activities include baking a delicious fairy cake, building a magical fairy cafe, creating a fairy house kit, and finally making a Lil' toadstool house.
For detailed instructions and to get additional whimsical and fun fairy ideas, check out Kids Activities Blog this week. Come get inspired to let the kids have some magical playtime in fairyland.
About Kids Activities Blog
Kids Activities Blog is a website created by two moms (who collectively have nine children), Rachel Miller and Holly Homer from June Cleaver Nirvana. It is their daily goal to inspire parents and teachers to play with kids. This interactive website publishes simple things to do with kids twice a day. Kids Activities Blog is a great tool for moms and teachers to find kid-friendly activities that create memories and sneak learning into the fun.