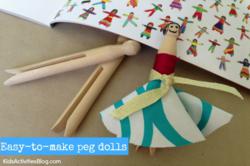 Let the kid's favorite book come alive by making easy to do peg dolls or paper dolls.
Dallas, Texas (PRWEB) April 16, 2013
An adorable peg dolls craft inspired by the Silly Billy book, written by Anthony Browne, has been released on Kids Activities Blog together with a royal princess paper dolls craft. These crafts are perfect for creative playtime where favorite books and children's stories come to life.
The book inspired peg doll craft is based on a cute story about kindness and love. The main character in the book, Silly Billy, is worried about all sorts of things, big and small. He stays over at his Grandmother's house one night, and she hands him a collection of worry dolls. She tells Billy to share his concerns to the worry dolls in order to get a good night sleep.
Making worry dolls, or all kinds of dolls based on other kids' favorite stories, is both super simple and fun to do. Materials needed are just some wooden pegs, some scraps of fabric, cotton thread, and a pen. The rest is up to the child's imagination.
Cut out fabric circles and glue them to the pegs. Decorate the pegs by using pens and ribbons. Ready are the adorable little peg dolls.
Making paper dolls is just as simple and fun to do. Materials needed are cardboard, yarn for hair, pipe cleaners bend for arms, craft sticks, paint and whatever decorative items one has around the house such as glitter, sequins, and googly eyes.
Print out the doll template provided on Kids Activities Blog. Trace the template on the cardboard. Then, cut it out. Decorate the doll and glue it on top of the craft sticks. The cute princess doll is ready for some royal playtime. Let the kids' imaginations roar.
For detailed instructions and to get additional super fun doll craft ideas, check out Kids Activities Blog this week. Come get inspired to let the kids create some fun dolls based on their favorite stories.
About Kids Activities Blog
Kids Activities Blog is a website created by two moms (who collectively have 9 children), Rachel Miller and Holly Homer from June Cleaver Nirvana. It is their daily goal to inspire parents and teachers to play with kids. This interactive website publishes simple things to do with kids twice a day. Kids Activities Blog is a great tool for moms and teachers to find kid-friendly activities that create memories and sneak learning into the fun.