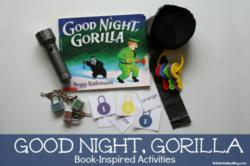 Matching keys with locks and playing in a DIY cage will bring the story to life.
Dallas, Texas (PRWEB) April 17, 2013
Fun activities and games based on the book Good Night Gorilla, written by Peggy Rathmann, have been released on Kids Activities Blog together with a list of kids' all time favorite bedtime stories. The super creative activities are perfect for fun playtime that sneaks in a bit of learning.
Good Night Gorilla tells the story of a zookeeper that goes around and tells good night to all the animals. What he does not know is that an impish gorilla has stolen his keys and is letting all the animals out. The animals follow the zookeeper home and into bed. As the wife says goodnight, all the animals respond. She gets out of bed, walks the animals back to the zoo, and puts them into their cages, or so she thinks.
Activities based on this story include two fun key and lock color match games, one for younger kids and the other one for older kids. Print the colorful lock and key templates from Kids Activities Blog. The kids have to match either colored locks and keys or they have to match color words to the matching locks.
Dramatic play is another fun way to let the story come to life. Build a cage by taping black paper stripes around a table. Let the kids have fun with going inside the cage and escaping. Additionally, place a prop bucket by the cage, such as a flashlight, locks, keys, even stuffed animals, to let the kids have fun pretending they are part of the story. Playing a game of finding the matching key to the lock is a great motor skill practice for the kids, too.
All time favorite bedtime stories include The Going To Bed Book by Sandra Boynton. This is a cute boardbook where silly characters go through their bedtime routine. Another kids favorite is Good Night Construction Site written by Sherri Duskey Rinker and illustrated by Tom Lichtenheld. Harold And The Purple Crayon by Crockett Johnson is another kids favorite where Harold goes on an adventure with his purple crayon instead of being in bed.
For detailed instructions and to get additional fun book ideas, check out Kids Activities Blog this week. Come get inspired to read some great books and let the stories come to life.
About Kids Activities Blog
Kids Activities Blog is a website created by two moms (who collectively have 9 children), Rachel Miller and Holly Homer from June Cleaver Nirvana. It is their daily goal to inspire parents and teachers to play with kids. This interactive website publishes simple things to do with kids twice a day. Kids Activities Blog is a great tool for moms and teachers to find kid-friendly activities that create memories and sneak learning into the fun.