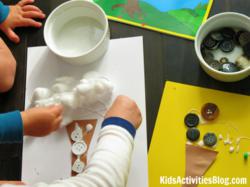 Apple trees make great crafts and teach about the seasons, too.
Dallas, Texas (PRWEB) April 18, 2013
The season is changing from winter to spring. A creative apple tree craft and an adorable paper plate apple are the perfect activities to teach kids about the changing seasons.
The apple tree craft is based on the book The Seasons of Arnold's Apple Tree written by Gail Gibbons. The book is a sweet story about a boy and his favorite apple tree. The change of seasons activity is easy to do with items found around the house.
Materials needed are four pieces of colored cardstock, preferably colors that match the seasons, brown construction paper for tree trunks, some glue, and four small bowls. Let the kids go on a scavenger hunt to fill the small bowls with items that can be easily glued onto the construction paper and that have colors representing the seasons. These items can range from buttons, to cotton balls, to glitter, pipe cleaners, fabric scraps, wool pieces, ribbons and many more.
Decide which cardboard will represent what season, glue the tree trunk on the middle of the page and let the kids have fun creating an apple tree with colors representing a particular season.
Another cute seasonal craft is making a paper plate apple. Materials needed are paper plates, some paint, a pair of chop sticks, glue, and a sponge. Cut out the inside of a paper plate and color the paper ring red. This represents the apple peel or skin.
Teaching kids that the peel is full of nutrients and vitamins may finally get them to eat it. Then cut out a second paper plate to represent the apple core. Paint it yellowish.
Finally, cut a piece of the sponge that has a shape of a seed and dip it into the black paint with chop sticks. Glue the apple core inside the apple peel and ready is the cute apple.
For detailed instructions and to get additional fun seasonal craft ideas, check out Kids Activities Blog. Come get inspired to let the kids make fun seasonal crafts.
About Kids Activities Blog
Kids Activities Blog is a website created by two moms (who collectively have 9 children), Rachel Miller and Holly Homer from June Cleaver Nirvana. It is their daily goal to inspire parents and teachers to play with kids. This interactive website publishes simple things to do with kids twice a day. Kids Activities Blog is a great tool for moms and teachers to find kid-friendly activities that create memories and sneak learning into the fun.