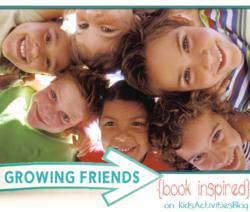 Friendship skills are important to succeed in life.
Dallas, Texas (PRWEB) April 19, 2013
The Friendship Seed written by Bunny Hull teaches children about compassion and ignites a desire to learn about nature. Teaching kids about friendship, what it means to be a good friend, and how to nurture a friendship is invaluable to a child.
The Friendship Seed is part of the Young Masters Little Wisdom Series. The whole series is great in teaching kids the skills they need to succeed in life.
Activity ideas, based on the story, include gathering several flowers and talking to the children what it takes to take care of them. Let the kids find out what is similar and what is different from each flower. Point out that humans are like flowers in that they are not alike.
Creating a friendship tree and writing compliments and nice attributes of each other will help the child's self esteem. What makes a good friendship grow is a great question and conversation starter with the kids while they are painting pictures of flowers. Another simple and fun idea is writing a friendship poem together.
Other ways to teach about friendships is to remember birthdays and important accomplishments together, to be reliable, to do all kinds of nice things for each other and to use kind language. Helping a friend in need and simply spending fun time together are some of the basic things to grow a strong friendship.
For detailed instructions and to get additional friendship ideas, check out Kids Activities Blog this week. Come get inspired to let the kids learn important life skills.
About Kids Activities Blog
Kids Activities Blog is a website created by two moms (who collectively have 9 children), Rachel Miller and Holly Homer from June Cleaver Nirvana. It is their daily goal to inspire parents and teachers to play with kids. This interactive website publishes simple things to do with kids twice a day. Kids Activities Blog is a great tool for moms and teachers to find kid-friendly activities that create memories and sneak learning into the fun.