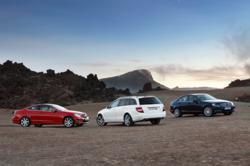 (PRWEB UK) 14 April 2013
Mercedes Benz proves its ability to offer a stylish and sporty version of the C-Class Estate, Saloon and Coupe with the new limited Edition C model currently on the market.
The new Mercedes C Class stands out from the rest because of the attention to detail that Mercedes-Benz has included within this model. Car buyers can take advantage of a significant amount of equipment, impressive interior design as well as a dynamic appearance inside and out. High end materials have been used throughout.
Multimedia and telematics are where the new model impresses the most. A recent BBC discussion on Mercedes Benz and the new models featuring muscle and electrodes. The luxurious limited edition features eye-catching two tones within the stylish and sporty interior, including man-made leather sporty seats. The driver will also have a nappa leather wrapped steering wheel with a beautiful multifunctional colour display as well as Attention Assist to ensure the driver is always paying attention. The detail throughout the interior continues with velour floor mats and folding rear seats.
The exterior of the new Mercedes C Class Edition C model is something to behold as well. Drivers will instantly notice a new radiator grille that has accents of high-gloss black as well as darkened headlamps. There is also AMG body styles included in the front apron, the rear apron as well as the side sill panels of the Coupe. The AVANTGARDE design may be selected in Saloon and Estate models, allowing buyers to experience these same stylings in any C Class model.
Additionally, to ensure everyone on the road is knowledgeable about the limited edition, there is an "Edition C" badge found on the wing.
The Edition C Mercedes C Class is an additional £1785 added to the price of the Estate, Saloon and Coupe models on the market. Those models that already have the AVANTGARDE can look forward to a slightly reduced price.
A significant amount of changes are going on within the C Class by Mercedes Benz. For anyone who has strayed away from the three pointed star, the new COMAND online media system is sure to bring them back. This features live traffic information as well as a full media interface, digital radio and top of the line surround sound system. This is found in the new C 220 CDI 4MATIC, the latest of entry level AWD models in the C Class range.
Drivers can also take advantage of various options for the purpose of performance. This includes a Dynamic Handling Package, a SPORT button for suspension as well as an E/S button to gain control over the power-train. Sporty settings are just another one of the impressive features that Mercedes has chosen to include in this have-to-have edition.
Anyone who wants to see the Edition C model for themselves will be able to schedule a test drive and sit inside of the stunning luxury car at a local Mercedes-Benz dealership in Hertfordshire. With details inside and out, it's hard not to see how much has changed within this limited edition model found within the C-Class line.
END
Author: David Newman from Mercedes-Benz Hertfordshire
About Mercedes-Benz Hertfordshire - L & L Automotive
L&L Automotive is the driving force behind a dynamic retail network aimed at enhancing sales and after sales services for the region's existing and prospective Mercedes-Benz, AMG and smart customers.
Encompassing retail outlets in Bishop's Stortford, Hertford and Stevenage, the group is operated by L&L Automotive – a company boasting a lengthy and successful history.
L&L's Mercedes-Benz businesses moved into Hertfordshire in July 2002, when it was selected as one of Daimler UK's key business partners in establishing a revitalised national retail structure.
L&L Automotive. is a company registered in England and Wales with company number 4415393
VAT No. 794 6047 92
Mercedes-Benz of Stevenage : 01438 737800
Mercedes-Benz of Bishops Stortford : 01279 719333
Mercedes-Benz of Hertford : 01992 514444