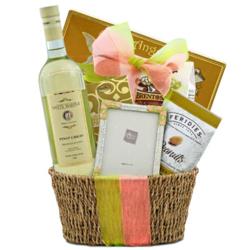 Many of us here are working Moms and we know what babies, and their mothers, would like to get as gifts
Clifton, NJ (PRWEB) April 16, 2013
At babybasket.com, the premier website for baby baskets for newborn baby boys and girls, every day is Mother's Day, which is why the website includes a full line of relaxation gifts designed especially for the new Mom. So, it comes as no surprise that the baby gift basket experts are offering a pre-Mother's Day special: 10% off everything on their website – for babies and their Moms too - from now through the end of April.
Give the new mom the gift of relaxation this Mother's Day with the Instant Lavender Spa Gift Set– just take one can of Plum Island Soap Co. lavender spa products, add water, and presto - instant lavender spa! Or try the Instant Happy Feet Spa Gift Set – take one can of Plum Island Soap Co. all natural foot care products, add some hard-working tootsies, and presto - instant happy feet!
Or honor that special new mom with the help of Santa Marina Pinot Grigio white wine and a hand-painted picture frame, a great way for her relax and savor baby's first memories with the Someone Special White Wine Gift Basket.
Of course, babybasket.com has gifts for every occasion – not just Mother's Day. April showers means baby showers – so now is the perfect time to shower the mom-to-be with love, support, and useful gifts like the Baby Bunch Pink Clothing Medium Bouquet Gift Set, featuring a sweet bunch of soft baby girl clothes. Or why not go green and try the Organic Lush Blanket & Lullabies Gift Pack to help the young one sleep like a baby with a cozy, all natural blanket and Baby Bach CD combo.
These unique babybasket.com arrangements are all created and designed in a state of the art 40,000 square foot facility in NJ and can be used for baby showers, baby's 1st birthday, or to welcome home the new bouncing baby boy or girl.
"There is a special bond between a baby and its mother," says Sue Capalbo, Vice President of Capalbo's Gift Baskets. "Many of us here are working Moms and we know what babies, and their mothers, would like to get as gifts."
Babybasket.com has just added the popular My Pet Blankie™ products to its growing list of adorable, yet practical baby gifts. My Pet Blankie™ is a new and innovative roll-up plush blanket that transforms into a cute plush toy, huggable and lovable for infants and children of all ages. When unrolled, the blanket is made of snuggly soft, fleecy material that is completely machine-washable and stuffing free. This 3-in-1 blanket, pillow and plush toy is perfect for gifts, traveling and is ideal for pets, too.
Customers can order a variety of baby gift baskets via the babybasket.com website on their desktop or mobile device. The baskets and gifts can also be seen in person at their retail store, Capalbo's Gift Baskets, located at 350 Allwood Road in Clifton, NJ 07012, just across from the Clifton Promenade Mall.
About Babybasket.com
Babybasket.com provides baby baskets, designer baby clothes, big brother and sister gifts, get well gifts for kids - plus, baskets with champagne or wine for the new parents to enjoy - all delivered to customers nationwide. Every basket is backed by a 100% unconditional satisfaction guarantee. Customer Service Representatives, all friendly and knowledgeable, are available to assist from 9:00am to 6:00pm weekdays by phone at (800) 252-6262 or via live online chat. You can also visit their sister sites, winebasket.com for wine, champagne and gourmet food arrangements, and Capalbosonline.com, for fruit gift baskets perfect for every occasion.