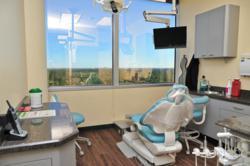 We look forward to making you smile!
Houston, TX (PRWEB) April 15, 2013
Healthy Smiles Family Dentistry opened 6 months ago to rave reviews. The dental office has spectacular views of Houston overlooking a sea of trees, and is filled with amazing assistants and a dentist devoted to her patients' optimal dental health. At Healthy Smiles, Dr. Vlachakis knows the key to having patients realize the importance of their dental health is fully educating them and showing them what will happen to their smiles if proper care is not taken. Your first experience at Healthy Smiles will provide you with the knowledge and power to make the decisions about your dental health.
"I love to talk about teeth, so I am happy to answer any questions or concerns. It's important to me to make sure my patients understand the treatment they need and the reasons behind the treatment plan," says Dr. Vlachakis. Dr. Vlachakis, or "Dr. V" as her patients call her, stands out from most doctors and dentists today, setting aside time for each patient in her dental chair and giving them the time to ask questions or state concerns they may have. It's no surprise that "personalized care and treatment" is the motto at Healthy Smiles. Dr. V knows the importance of giving each patient an allotted time with no other distractions and avoids leaving patients waiting in the reception area or in the treatment room. She wants to get to know her patients and make them as comfortable as possible, learning their fears and past dental experiences in order to make every visit at her office easy.
There have been a few stories in the media lately that have left people feeling uneasy about dentists. Going to a new office, like Healthy Smiles, has its advantages. The first is the ability to see how new and clean the office is. Dr. V is happy to show a curious patient around the entire office, including the sterilization area and break room. Her office is the highest level of cleanliness, it is thoroughly disinfected and sterilized.
Another advantage of this new office is the up-to-date digital x-ray technology, which addresses any fears of extra radiation exposure. Digital x-rays produce 80% less radiation than traditional x-rays. Also, digital x-rays show up immediately and do not need to be developed, making the dental experience more efficient and less time-consuming for the patient. Dr. V's office has the newest FDA-approved equipment. Healthy Smiles' website is also great for education and allows patients to set up their own appointments, with a date and time that work for them.
But the most important advantage of visiting Healthy Smiles Family Dentistry is Dr. Vlachakis herself. She knows that not every patient is the same or has had great dental experiences before, and she aims to help patients realize that the dental experience does not have to be a negative one. Her personal touches make every visit comfortable and easy. For example, she gives her patients her personal cell phone number if they need to reach her for any reason, and she is very responsive. Dr. Vlachakis is a rare breed in the dental community, compassionate and driven, and she attempts to make each person love dental health as much as she does.
Dr. Vlachakis went to Dental School at the University of Texas - Houston and has been practicing in the Houston area for the past 5 years. Opening Healthy Smiles Family Dentistry is her pride and joy. She is excited to offer people in Houston a new and more customized approach to their dental visits. To celebrate their sixth month anniversary, Healthy Smiles Family Dentistry is offering an amazing special on teeth whitening for the Spring. Go to their website at http://www.healthysmileshouston.com for more details. Thank you for taking the time to read about Healthy Smiles Family Dentistry and as Dr. V always says "we look forward to making you smile!"