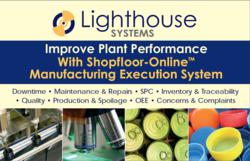 Lighthouse understands our business well and together we have established a strong production process with Quality measures placed high on the agenda – this gives us the ultimate confidence in our systems.
Rochester, NY (PRWEB) April 16, 2013
Cannex is returning to the Americas this year when it visits Atlanta, Georgia USA May 1st-3rd 2013. Lighthouse Systems, a leading developer of MES Software will exhibit at Cannex in booth 705. On display will be Lighthouse's award winning software for Manufacturing Execution Systems called Shopfloor-Online.
Cannex is the premier show for can-making executives, technical specialists and metal packaging users. Any organization that manufactures metal cans or is involved with filling applications will benefit from the show. Additionally, The Canmaker Technical Conference will be held alongside the Cannex show. This Technical Conference will educate attendees in the latest can making technologies and how these new technologies can help their businesses.
Executives in this industry face common pressures: reduce material costs, spoilage, customer complaints and energy consumption. Lighthouse will be on hand to demonstrate how their MES software has helped Can Manufacturing plants with these business issues. Additionally, solutions to problems like Traceability, Quality, and OEE will be on display.
About Lighthouse Systems
Lighthouse Systems is one of the world's leading developers of Manufacturing Execution Systems. With offices in London, Singapore, and Rochester, NY. Lighthouse Systems Shopfloor-Online is web based modular software that provides real time visibility of the entire manufacturing operations environment. Applications include Maintenance Management, Concern Management, Quality, SPC, Downtime, OEE, Spoilage and Inventory Traceability. Shopfloor-Online is being used in a wide range of industries with some of the biggest manufacturing companies; it is deployed in 15 languages in 28 countries.