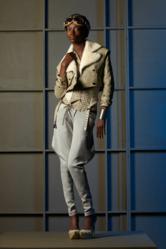 I believe that preparing Gen-Y students to enter the industry with multiple approaches to design and research will help them make the most of their intense technical training," explains Hagen.
Burbank, CA (PRWEB) April 13, 2013
Newly-placed chair of the Department of Fashion Design at Woodbury University, Kathryn Hagen, enacted various program updates this past year that has pushed student work into the limelight. As the school year comes to a close, the fashion department's success continues to garner attention.
The latest achievements to come out of the program's changes this year include scholarship recognition for student talent. Woodbury senior student earned sought after Textile Association of Los Angeles (TALA) scholarship award.
In addition to a scholarship, awardees have the honor of displaying their work at the Scholarship Luncheon being held at the California Market Center in Los Angeles on April 18. The scholarship recipient will also showcase their entire collection at Woodbury University's public runway event held on May 2nd at Los Angeles Center Studios. The highly anticipated fashion show received an overwhelming response from the public, as the 1,000-occupancy venue sold out in less than three hours.
The runway event will be hosted by Los Angeles style icon Lisa Kline, and has a list of attendees that includes students from other design schools, industry leaders, manufacturers, stylists, costumers and merchandisers.
About Woodbury University
Founded in 1884, Woodbury University is an accredited institution located in Burbank, Calif. that offers prospective students an array of undergraduate degree options such as fashion design, fashion marketing, architecture and more. Their mission is to provide a creative and innovative curriculum to students, while fusing real-world experience into every program.
For questions or comments, please contact Jaime Catmull, at Jaime(at)BFFPublicity(dot)com, or 424-903-9002.